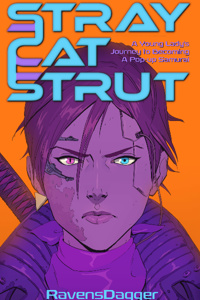 Stray Cat Strut ⁠— A Young Lady's Journey to Becoming a Pop-Up Samurai
Warning
This fiction contains:
Gore
Profanity
Sexual Content
In the year 2057, the world has become a corporate-run utopia for the super-rich, and a hellhole for all the rest.
Catherine 'Cat' Leblanc is an orphan that is about as far from super-rich as one can be. When the Incursion alarms start blaring and the sky starts raining hungry xenos, it's just another blemish on an already piss-poor afternoon.


A cyberpunk magical-girl alien-invasion LitRPG.
It's exactly as wild as it sounds.
Overall Score
Style Score
Story Score
Grammar Score
Character Score
Total Views :
1,853,465
Average Views :
10,073
Followers :
4,571
Favorites :
1,272
Ratings :
1,367
Pages :
991
Cool story but chapters are way to short, by the time you start getting used to it the chapter ends. The frequency helps mitigate that a bit but it's still stops you from immersing yourself. Highly recommend if you're going to read this to Wait till multiple chapters are out before reading. Not good for chapter to chapter reading

Well, this isn't what I expected to stumble over, but I have to admit I'm more than a little enthused about it. The setting is a distinctly cyberpunk future, with malware packed into even official programs and large corporations slapping their name on anything and everything for advertisements. Seven chapters in, and it's already a pretty significant departure from stories like Cinnamon Bun or Love Crafted, but it hits the ground running. The protagonist being a crippled orphan who picked up responsibility for the rest of the poor forgotten kids at the orphanage, and who's best friend cheerfully navigates around on crutches, builds an instant sense of misfit status and a (true to authorial form) oddly endearing little community. There's also a very immediate sense that even in a world with incredibly advanced technology, they've been swept under the rug and forgotten. Oh, and terrifying aliens are regularly falling out of the sky. That's an important factor too.
Honestly, there isn't too much material to directly review at this point, but if you take the time to read the first few chapters I doubt that you'll be disappointed. The protagonist falls right into the 'Jaded but good-hearted' box, without the slightest bit of manufactured tone, and it meshes with the cyberpunk setting perfectly. Not to mention, there's a single chapter with action, and it charges headfirst into desperate brutality. It's a bit of a leap from the innocent monstrosity of Love Crafted, or earnest effort of Cinnamon Bun, but like I've already said, perfect for the current setting.
So, this may rather early in the story's life cycle to write much of a review, but considering the quality of writing that RavensDagger has already put up on this website, I feel pretty confident in recommending the story off of nothing more than the currently posted chapters.

I really like the story but the thing that I feared happened. I already read a lot of stories from the author (more like all of them) and I know that he usually makes the chapters incredible short (around 1k words with some of them going to 3k very rarely) and to make things worse he uploads them like a salesman instead of an amateur writer looking for readers (Which is ok, he needs money to have free time to write after all). What I mean with that is that he uploads 1 chapter each week based on what his patreons vote. Sometimes he writes more, sometime he writes less BUT he will just release 1 chapter each week for 2 or 3 stories. There's also the problem that the moment that his patreons stop paying for a specific story he drops it like yesterday trash xD which is a shame. So he also has A LOT of incomplete stories.
The good thing is that, at least with Cinammon Bun and Stray Cat, he is uploading a lot of chapters and doing those "events" were he uploads one chapter each day for a specific amount of time. The bad thing and what I feared is that all of them are incredible short and all those chapters amount to around 34k words more or less which is almost nothing xD Add to that the slow progression of this story (there are chapters were the MC only buys a pistol and that's ALL that happens) and in one afternoon I managed to read through all the chapters in RoyalRoad at the moment with nothing much happening in the story. I'm sad.
Now, about the story. I thought that it was about a cat that managed through a "system" to become a "samurai" in a futuristic setting. Well...that's wrong. By "stray cat" the author means orphan and the "samurai" is the designation that someone wins by being a "defender of humanity" against and invasion of aliens that are like the Tyranids from Warhammer 40k. The story is good but, as I said, incredible slow and with really short chapters. After around 30 chapter we have just seen the introduction and are still in the start of the story. (As in the hero is still trying to get the Cypress Stick still)
Pretty good twist on the normal System plot, both in the setting of a futuristic distopia and in the main character by an author whose already proven he has great writing skills. The dialogue is believeable, the fights thrilling, the cliffhangers wrenching, and the characters sympathetic. Can't recommend more, and I promise that you'll be entertained if you give this story a try.

If you like any other RavensDagger works, stop reading reviews and just read the story! It has a great cast of characters and riveting action scenes right off the bat. Every chapter leaves me wanting to read more.
Cyberpunk action? Hell yeah!
Family-oriented mc kickin' alien ass.

Repeats a bit.
You'll go through chapter after chapter reading the same kind of snarky dialogue. You open up a chapter and it's just buying a pistol and snarky dialogue. The snark is not witty, loveable, or even fun, it's just a bore.
First book was good, when it was just action. But then for some bizzare reason the action stopped so we were left with only dialogue. Mehhhhh
Also, sex jokes. Which are all the same. There may exists sex jokes different than 'tease, disgusting comment, affront', but I haven't found any, not here.
Read a few of your stories and found the others a bit too far into silliness for me, this story hits right in my comfort zone though. Good action, nice banter and likeable characters.
Nothing bad to say about grammar or such, just solid writing to me.
I kinda have to say that your title pushes my buttons a little bit though, should just keep it to "Stray Cat Strut" and leave the rest. In my mind a Title should be short and attention grabbing. Just my opinion though.
That aside, if i had a bit more spare cash lying around i'd definately support your writing, but real life is as it is.
Keep up the good work!
Ok, I'm loving the story thus far, but I have one issue. Cat is an orphan missing an arm and an eye, yet thus far no stranger she has encountered (other than a bot) has reacted at all to her disability. Disabilities tend to draw some sort of reactions from strangers, and it often makes others uncomfortable or draws their attention. Yet thus far entire story has had every other human encountered treating her like any other child. It would likely be something she was self conscious about, or sensitive to the stares of others. Also, things like opening doors with a pistol in hand would be very awkard, and having to put the pistol away every time she does so would make her much more susceptible to an ambush.
Please go back and tweak at least a few of the encounters with strangers. It's not very realistic to have everyone sanguine in the face of a disability. Either strangers will think she's less capable and question her ability to handle the weapon she has, or they will be prone to sympathizing and try to coddle her. Writing a few encounters in like that will give Cat's character more of a justification for the wariness she shows. As it is, nobody has batted an eye that she is a young girl carrying a pistol and missing an arm and an eye. It's like the missing arm and eye are a vanity set applied to a video game character that has zero impact on actual gameplay.
Heck, maybe this is a sixth sense type twist and we discover later that the missing arm and missing eye are just in her head, not actually real. That would actually make more sense than not a single human (other than friends) reacting in any way shape or form to her disability as of chapter 18.
Edit: Someone acknowledged her lack of arm/eye on chapter 25.
The premise is pretty neat and I would have liked the story if not for the execution. The main character goes from crippled young girl instantly to overpowered seasoned and jaded actionhero, all because she got a gun. Is that supposed to be character development? Side characters are only there to be incompetent and make the main character look better. And on top of that the main character has an intensely unlikable personality.
and the author knows it understood, strutter. Sung to the tune of Strutter, by Kiss.
Really can't emphasize enough how much I enjoyed the premise itself. Shades of the Scourged Earth, but unique enough to still stand out as fairly original. It's the kind of stuff I wish that I could come up with.
Grammar was good enough I ddn't notice any errors.
As of chapter 27 you've got maybe 2 and half characters with depth, and several cardboard characters to bounce them off of. Still hands down better than most genre fiction, paid or not.
My biggest complaint is pacing. Without spoilering, by analogy, in most stories going to the grocery store to get stuff to make tacos would be a chapter. Here I have a super short chapter about deciding I want tacos. A chaptlet about travel to the store. A chaptlet about picking the stuff from the shelves, a chaptlet about buyng the stuff. IF you wait till the author drops 4 or 5 chapters and read them together as 1 chunk it's not bad, but if you take the chapters one at a time there is a lack of flow and context to the story that really breaks immersion.