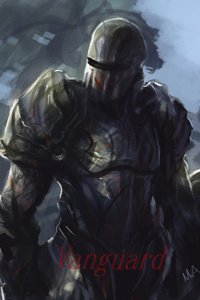 Warning
This fiction contains:
Gore
Profanity
Traumatising content
Leon hid a grimace. He was no soldier, he chose this. At least in a way. He chose to risk his life for profit. He chose to fight in a war he had no real opinion of. Hell he even chose to join this assault.
There was a bonus in it after all.
The room shook.
Overall Score
Style Score
Story Score
Grammar Score
Character Score
Total Views :
1,798
Average Views :
225
Followers :
19
Favorites :
3
Ratings :
1
Pages :
72

A good medieval mercenary story, while I was a lil hesitant to rate vanguard on the first 3 chapters alone. After some thought I believe that it deserves a review regardless.
Good character depth for the beginning chapters and even though we've just started the plot seems fairly developed already. I can't wait to see what vanguard has next