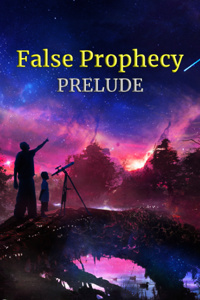 Everyone knows the Prophecy of the Fated King. Everyone knows of his Six Signs and Seven Trials. Everyone knows he is the one destined to lead an army of soldiers and fae into battle against the spectral invaders known as wraiths.
But what if the Fated King failed, and his Prophecy never comes true? What if he was killed surrounded by loved ones and devoted allies? What if he died four years before the inevitable war for our world's soul?
Humanity could not possibly survive without him.
Could we?
Nise, 107-563 P.R.
---
False Prophecy is a high fantasy saga about a world that loses its chosen one four years before their apocalypse. The Prelude takes place during the five weeks prior to this tragic event, following a husband and father named Kon. When discovered to be a Seer - a human blessed with the power to see and bond with the magical fae - Kon is taken away from his family and conscripted into the Fated King's army to play his part in the coming war.
---
Inspired by Brandon Sanderson's The Stormlight Archive, Wildbow's Parahumans, and countless anime.
Disclaimer: FP's Prelude Novel, A Sung Prophecy, is slow burn and character focused. Expect lots of worldbuilding and an extensively large cast.
Overall Score
Style Score
Story Score
Grammar Score
Character Score
Total Views :
21,904
Average Views :
456
Followers :
110
Favorites :
19
Ratings :
39
Pages :
777

I always appreciate when fantasy moves beyond the borders of Tolkien. This story certainly does that. This world is a funhouse mirror image of our own. There are schools like ours, but people are organized into aviary inspired tribes. One of the teachers at this school, Kon, must balance both allowing his daughter to develop her sight and protecting her from her fearful mother.
I'm intrigued to see what comes next!

I have to say that this story swept me off my feet. When I entered it, I thought I would simply like it. However, simply 'liking' is not the way my reading experience went.
I loved it.

As VMJ said below, I, too, expect this story to become a big hit on the site.
I noticed no grammar mistakes, the style was impeccable, and the story is on an interesting track. The introduction of Fae in this story is what really swept me off my feet, with the use of prose and exposition that allows me to envision this world, these characters, and their effects on the world! I am blown away--fantastic read, fantastic story, fantastically written.

This story is new on Royal Road and I expect it to become very popular soon. It's wonderful and has the skill and writing of a published novel. Grammar and flow is great. Major props to the author for the use of great unique names that put us into a fantasy setting feel right away and all feel natural.

Unlike many stories on RR, the main character in False Prophecy is an almost middle-aged man, 39 year old schoolteacher Kon. Oddly, just a year ago, he began to be able to see fae.

Fae, in this tale, remind me of both guardian angels and the daemons from His Dark Materials. Everyone seems to have one, but not everyone can see them. Few can, in fact, and Kon is trying to keep his new secret hidden so that he isn't drafted for his Sight.
If you want to know more- you should go read the story.

The synopsis caught my eye and from what I've read so far, this novel delivers exactly what it promises: interesting characters and a huge world to explore.
There's a certain sense of uniqueness that makes False Prophecy stand apart from the crowd. I especially like how it revolves around the theme of prophecy and those with the power to foretell the future, that is, the Seers.
While the pacing is sometimes too slow for my taste, I still enjoy the dialogues between Kon and his daughter Kinjra. I have the feeling Kin will play a very important role, who knows, she might actually be the real MC of this novel!
In sum, I suggest you give False Prophecy a try!

Style:
The author has an almost poetic style in their description of the scenes, which is lovely to read.
Grammar:
The story is told mostly from third limited past tense, but slips in both the limited part and the tense part on a few occasions. There were some spelling errors, but nothing to detract a whole star over.
Story:
There seems to be an interesting story to tell here, but the author isn't getting to it. The scenes drag without much happening, and while they're beautiful to read, it was hard to stay interested in what might come.
I'm not certain who the MC is yet.
It seems to be the father, Kon, but from the prologue I know he dies in 5 weeks. If the story is about his 5 weeks of school and death with the Fated King (or perhaps he hasn't died) I'm not interested in that story. I am hoping the daughter is the MC--which is all the more frustrating that after several thousand words, we're not getting there.
The beings (called humans but don't seem to be) are not well described. I'm finding it difficult to picture what they look like, and the author doesn't help us much other than mentioning "raptor descent." I'm not sure if they look bird-like, have wings and beaks, or if they look very human aside from their hands.
The magic system seems to have a lot of thought behind it, and I'm interested, but have seen too little of it by the end of chapter 4.
Character:
The characters are diverse and well thought out. They have their own needs, desires, and flaws. The backstories lend to their actions and behaviors.
Disclaimer: I'm much more into sci-fi than fantasy, so this isn't really the genre that I usually read.
That said, I'm glad I checked this story out! I saw in the comments that some people didn't like knowing in advance that a main character was going to be killed, but I actually really like that as a concept. In a way, it makes you treasure the time you have with that character. The idea of starting out with the "chosen" one maaaybe not being as chosen as everybody expected, is a really cool twist on that familiar story.
Some of the fantasy concepts were a bit lost on me, though. For example, I didn't really know what a fae was supposed to be, although I eventually took it to be kind of like a how daemons are described in Phillip Pullman's 'Northern Lights'. (I feel like I might be in the minority here though, so if you're into the fantasy genre you might be totally fine with all the fantastical happenings in False Prophecy).
What I did really enjoy was the writing. Even though the overall style and genre just isn't my personal taste, this writer clearly knows what they're doing! Great dialogue, great grammar - top notch crafting! :)