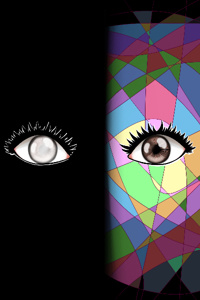 Warning
This fiction contains:
Gore
Profanity
Traumatising content
This is the story of Chitra. A girl born blind, living her life in a world of darkness. This is a story of her and Finitum. The unique full-dive VRMMORPG that brought a new beginning to her life, brought her new meetings, partings, emotions, and adventure. A game that made light bloom in her dark world.
follow her journeys through the mysterious and magic-filled game that changed her life! The game…
The game...
Is Finitum really just a simple game?

Check out my discord server...

Temporary synopsis. I hate writing synopsis. Well, this is my second work. It's still in the draft phase, but please enjoy...
Cover by Adsterhappy...
Overall Score
Style Score
Story Score
Grammar Score
Character Score
Total Views :
53,182
Average Views :
1,156
Followers :
387
Favorites :
80
Ratings :
126
Pages :
383

I have never read a story with a blind character before. I am glad to say that the author treats it with the gravity and respect that it deserves while giving the Chitra more of a character than just the blind girl like many stories tend to unfortunately do.
The grammar is great and i couldn't find any mistakes that bothered my reading. The style and flow of the writing is smooth and it makes it extremely fun to read.
Small subtle things like character expressions or even manners of speach are written in and they help give you a clear picture of the characters and how they react to thing's.
If you are expecting the same vr game powere fantasy, this story is not that. It is a fun well thought out story that takes into beautifully crafted world, inhabited by well developed characters who are center piece of this story.
Like mentioned above, this is a character driven story and it's character interactions and their fun distinct personalities that will have you coming back to this story.
Chitra is a fun main character and her growth throughout the book and interactions with others will stick with you even after you are done reading.

Ah, the "disabled person finds fully immersive VR and gets to experience X again/for the first time" trope. Truly widespread amongst sci-fi style litRPGs, and for good reason. Even by itself, it provides character, plot, and world development that gives stories a framework for what they become. Viewpoint-BLOOM... doesn't need it.
What do I mean by this? Well, this story more than carries itself even without that premise. Just the descriptive prose and brilliant characters are enough to make you want to stay. You get to see the life of a blind girl, but it isn't told as some sort of sob story or tragic misfortune. It's just life, and Chitra's personality really leaks through here. Because while her disabilities are the crux of her problems, it is not centered around them.
Oh, and the grammar is near impeccable. I couldn't find a place to mention that in the body of this review so here's a tiny section for it.
Overall, if you're looking for a more character-driven litRPG that breaks the RR norm, maybe give this a read! I'd highly recommend it :)

Overview:
Viewpoint-Bloom is a story about a disabled blind girl who enters a VR game to experience sight for the first time. While it's not the first story to use this sort of trope. It does however do it extremely well with a wonderfully unique perspective.
Style:
The style is super smooth and flowing. It's very easy to get lost in the story. With a good introspective to detail ratio you don't ever feel bogged down reading it.

Grammar:
While I am not the best judge of Grammar, no mistakes really stand out in my mind. I think it's mostly due to the fact I just wanted to keep reading.

Story Score:
The story is absolutely wonderful. It doesn't move too fast or too slow. The pacing feels just right and you feel like your organically getting to know the characters and watch them move forward. The story doesn't rush into the action. Instead it focuses on the experience of the moment. Which for a blind girl seeing for the first time is absolutely perfect.

Characters:
Chitra is definetly what makes the story. Reading her experience of being blind and living her life makes her feel like a friend we could all get along with. She has emotions, fears, and really good depth.
While the supporting cast hasn't gotten a lot of face time. They are equally as believeable and relatable. I am actually very excited to see more characters introduced and how they interact with Chitra.

In Closing:
Viewpoint-Bloom reads like it should be a best seller list to be honest. It's a wonderful story and a breath of fresh air to the genre. It hints at something bigger happening below the surface while still giving focus to the MC and her exploration not only into a new world. But being able to see, to have sight for the very first time.

Do yourself a favor and read it. I bet by chapter two you are hooked. I hope the author sticks with it and we get to go on adventures with Chitra for a long time.

This is a great piece of work. The area it shines is the character work. The first 7 chapters is all emotional build up to the MC Chitra actually entering the VR world and gaining her sense of sight back. It's a much slower pace introduction than most people of Royal Road will expect, but it's extremely well written. It gives a very deep and intimate characterization of it's main character, and her parents right out the gate, with strong emotional beats. This is a story that will pull at your heart strings, and get you invested in the characters.

There are some grammar mistakes in the later chapters that I read, but they are minor.

For style, I think the writer would do well to firmly cement which narrative voice she is going for. It seems to be third person omniscient, since it will describe stuff the MC clearly can't see. But, there were times it didn't feel like third person omniscient.

TL;DR: Frustrating (for me) plot woven into gripping package of a young adult dramatic novel. Featuring clueless heroine rushing headlong into any and all takers and acting like a bull in a china shop, sprinkled with hints of plot armor. Oh, and obligatory foreshadowing of sinister background conspiracies.
The introspective look on blindness, depression and mental crippling (hope the term makes sense) are interesting and nice. But their usage also seems somehow very subtly calculative. The same with the heroine being, on one hand, a depressed wounded blind little bird and on the other headstrong emotional elephant without any clue or ability to think being manipulated like a pupet on a set of strings in throes of absolute emotional overdrive for hours on end.
But that might be me preferring fiction protagonists to get some time to think and explore a little instead of just being dragged on the ground after the galloping horse of the plot. Four stars. I'm sure some will love it, but this one ain't for me.

An immedite groan usually washes over me when reading the words "RPG" on most stories, but this one is diffrent. This story follows Chitra, a young blind indian girl, as she attempts to traverse a VR RPG game that also renders her the sense of sight renewed. At first, you may think that this sounds like an immedite set-up for a power-wank fantasy but the approach this story takes is more "Serial Experiements Lain" then "Sword Art Online." There is of course battle mecahnics located within, but the true strength of the book is in it's depction of humanity.
Chitra cannot see, yet the authors style uses this to paing a beautiful picture of the world. With her lack of sight, comes an endless number of options for visual imagery and ways to describe the virtual world (My personal favorite being here calibrating the game's colors as if they were song notes). The style of writing is slick and incredibly vibrant, the authors subtle control of the language adding more and more weight to the writing. It's not easy to write someone with a sensory disability such as Chitara, but it's pulled off beautifully here. Really the only possible critcisim I have is that I wasn't incredibly interested in any of the characters except Chitara (such as her father) but I'm sure as I read onward, and more updates come in, that this will easily be rectified, especially with how likeable the protagonist is.
Even if you're tired of repatitive RPG fiction clogging up the front page, this is not one of those stories I assure you. It is not a self-insertion fantasy that tries to bite off more than it can chew. It is so much better than that.

In contrary to the usual LitRPG novel where the MC was an avid gamer who suddenly appeared in a game world, Citra was a disabled girl who never played game before. However, tempted with the possibility of seeing and walking again, she started playing Finitum.
The story shows us the life from the perspective of a disabled girl who hide her strong desire to feel normal like others.
The style and grammar are well written. Very monor mistakes that didn't affect the readability at all. The story flows nicely and it was easy to follow.
The author did a great job with the MC. Throughout the story, she matured greatly with the events happening all around her.
Overall, this is a great story with a new perspective. Definitely worth your time reading!