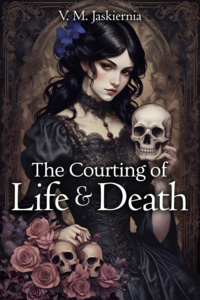 The Courting of Life and Death
Warning
This fiction contains:
Gore
Traumatising content
Buy the books, or cross-post your RR review - BOOK 2 OUT NOW! ❤
Clandestina is a realm of secrets, fairies, and dark magics. Among the nobles there is talk of a goddess of death, and a forbidden magic she grants to those that follow her-- cræft that can heal injuries that should be fatal or even bring back the dead. But she asks for much in return; blood and sometimes even life itself.
Larkspur, or A Necromancer's Romance: Pierre Salvador has just returned to court after finishing his studies and becoming a surgeon. But as he flirts with his childhood friend Elizabeth Anne, Mora, The Lady of Death, waits for him.

Delphinium, or A Necromancer's Home: Lady Elizabeth Anne does not know about the dark magic her beloved practices, and he has no intent to tell her. As they travel to his childhood home for the summer, Pierre Salvador attempts to balance his newfound love with his murderous cræft and his duties as duc.
Aconitella, or A Necromancer's Wife: Coming Soon
Overall Score
Style Score
Story Score
Grammar Score
Character Score
Total Views :
98,995
Average Views :
1,650
Followers :
718
Favorites :
168
Ratings :
193
Pages :
519

To me this was a mix of myster of magic, this work is honestly phenomenal, it was like reading a classic novel mixed with the novelty of plot, magic and mystery of web serials. I honestly loved it.
The style of the story was filled with the mystery and charm of the story, it conveyed to me how that world is much different from other mystery and magic stories, if I had a bone to pick it would be that sometimes i was confused due to the structure, but those were very few.
The story and plot itself, oh were they good, reading the first few chapters told me how much of this world was built and thought upon by the author i really want and hope it to continues that way.
I did not feel there was something wrong with the grammar so nothing from me here.
I read about a quarter of the current released chapters so for what i saw in the charcters was they each held a distinct characteristics based on their position in royalty and in the plot. The MC was the one that held a bit of character that steamed out from emotion. But like i said i stopped fairly early on and i am sure the rest of the characters get fleshed out later.

That. Was. Awesome. I read to the end of book one. So far, it's excellent. It was a combination of things I never knew I needed, like Cheerios and chocolate milk, tacos and blue cheese, lemon juice and menudo. If I were to describe the story to you, it would Jane Austen in her black period. Pride and prejudice but metal AF. Rammstein but delightfully sensitive.
It is solid. And I'll be honest, I put it off. I put it off because, boo hoo, I'm a man, I don't have time for no sensitive romance. But this romance is metal as hell, death is a character, and Pierre and Elizabeth are both so interesting and alluring they'll make thoroughly reevaluate your position on the Kinsey scale.
Okay so, obviously I'm drunk, but I'm going to try and be intelligible for a bit. VMJ's style is incredibly clean. The dialogue flies off the the page. The characters are fascinating, and occasionally infuriating, but in the sense that you want to slap them across the face and make them say nice things to each other, never in the take-them-behind-the shed-and-shoot-them sort of way. It's this manifestation of constant tension and face-rending stress of what the characters will do next and oh, hot damn, that's right, there's necromancers in this story and it's friggin relevant and interesting y'all, and maybe dating a necromancer isn't such a good idea, but he's hot and significantly more interesting that housecarl daryl in the tower across the way, so you can't exactly blame her and holy crap what's going to happen next?! Interrobang.
God dang I'm pumped and clearly limiting my language for RR friendliness.
Y'all. This story is a labor of love. It shows from the first word to the last sentence. Even if romance isn't traditionally your thing, give it a shot. Got a thing for the macabre? VMJ's got you. Want some sweet and fluffy moments? VMJ's got you. Want a moment where you look at everything that's occurred and completely recalibrate and reevaluate everything you've read and judgements on the characters you thought you previously understood?
VMJ's got that too.
Love it. Not a minute was wasted and I'm coming back for more when I'm sober.

I would start by simply saying that this story is a MUST read. I do not tend to give 5 stars in all categories but alas my hand was forced by the masterpiece that this story is. A tale written in the realm of Clandestina filled with magic and cræft it will take you through a journey of the tale of old when magic was much more real and dire.
Style
If I could I would have given this category 10 stars, but I only have 5 to work with so I had to make do. The writing style represents something written in the 1800s and it is a PLEASURE to read. The interaction, the world building, the subtle hints, the way the characters think, the way everything fits the image of this realm of magic Clandestina is something I am in love with it and I think you will be too.
Story
The story has a lot of aspects mixed into it, political intrigue, romance (not the sappy kind), drama, etc. Our protagonist courts death itself and while death is a strength there are consequences for it. The beautiful way that the author has expanded on necromancy had me gripped right from the start. A different and such a refreshing take over a magic that has been over-generalized by LitRPG, it takes spirits and death and the nature of Afterlife into account and overall is just delightful to read with a lot of potential for the future. An easy 5/5 here.
Grammar
Very rare typos but flawless otherwise if I was petty then I would have cut a half star here but honestly, I was so enamored by the story that I never even notice the typos. 5/5
Characters
What would you say when Death herself was a character? Each character has a purpose a goal, and each one seems equally deep and well thought. The only difference that I see between the main characters and side characters? How much we know about them. I will not spoil here so JUST GO READ! You will not be disappointed as right from the first chapters the characters drag you to travel through their tale, full of Life and Death.
Give the story some time it may take a while to grow on you, as the text is dense and filled to the brim with content so some reader may feel overwhelmed but go past that and you would have in your hands a masterpiece you wish was on your bookshelf too.
TL;DR Go Read it!
Brilliant work by the author in creating this piece of dark fantasy. Follow the exploits of Pierre as he dabbles in dark magic and pursues romance but all with ever-present spectre of Mora, the Lady of Death. The book opens with blossoming romance but takes a sharp turn into the nighttime world of the supernatural with blood rites and ritual as Pierre traverses the realms between the living and the dead. Familiars, faries and other fey creatures form part of this dark but enchanting realm. The script is written in a flowing style with language typical of the English Victorian / Elizabethean courtship era. This adds a sense of history which pairs well with the sense of lost archaic forbidden magics and creatures of old. Am definitely going to continue reading this one!

V. M. Jaskiernia pens a lighthearted romance steeped in horror—or is it perhaps a horror that has instead been beset by romance? Nuances of the dark and tantalizing blot across the finery of Victorian intrigue, with dread and delight waxing and waning in tandem to vie for the reader's attention. Larkspur's single defining shortfall is its brevity⁠—this fiction will capture you with its heartfelt whimsy and then steal your last breath away.

Wow.
I like to think I'm a fairly well-spoken person (well, maybe not fairly, but I'm not here to boost my very large ego). In the depths of my author soul, this makes me want to fangirl, draw fanart of Pierre and Elizabeth, and compose a concerto for every masterfully written description in the book that I've stumbled upon.
(hint: I would croak before I'm finished)
Usually I would be articulate enough to go through my scores one by one. But the sheer worldbuilding and depth (well, it kinda transcends depth, really) that Clandestina writes of is just...wow. Please, VJM, if I do meet you in real life, I'm not sure whether to pat you on the back for a job well done, enthusically shake your hand, or demand your autograph.
This radiates the word 'dark beauty' with a crossover of the energy the word 'flight of fancy' radiates (minus the impractical bit). It makes me want to compose a romantic ballad detailing how every word is sculpted to perfection.
Please, take a bow and my rose, for this story has damnably stolen my heart.
Talent. It's talent, I tell you - I will aggressively shake you by the collar until you've given this a shot (I read more than what I expected, but it deserves it). I think I'm a fairly flexible person, but this shoots right up to one of my favorites so far.
Necromancers. Fae. Cræft. Love. Life. Death.
I would serenade the heck out of this story - don't even mention courting it - as the concept is. Worldbuilding is immersive. Characters are solid. The story will swallow you.
Wow. Just, wow.
(the only reason I took a half-star off for character / story is that we haven't gotten attached to dear Pierre and his endeavors yet - not just yet, but I'm sure that'll be resolved in later chapters)

This reads way different from most RR novels in my opinion ( no offense). I love the magic system and how vague it is as that's what magic is about for me. The characters all have their personalities and motivations. So ya, would recommend
What can I say. Impeccable grammar and story telling. A refreshing style of story. Budding romances and ver very interesting and ethereal magic complementing a victorian age style collection of fae realms.

As the beginning of the synopsis says, Clandestina is a world full of secrets. It is a land of magic and fantasy that the reader is thrown into with no explanation. As one continues to read the veil of mystery is slowly pulled away, revealing an intriguing dark fantasy.
The story itself starts dark. Not in a grimdark way but in the way a moonless night can be disturbing. But as you read the darkness gives way to a beautiful romantic tale involving the main character and his love. Pierre and Elizabeth bring the light to the darkness and you can't help but hope their love succeeds.
VMJaskernia's characters remind me of reading classic love stories like Pride and Prejudice. There is a distinct tone for each voice and the dialogue flows like water. Nothing a character says feels stilted or out of place.
The style of the story only helps to add to the dark and mysterious air. The third-person style allows the author to slowly peel back the layers of complexity in each character, giving us more of the world and the magical machinations that occur. In turn, the bits and pieces we do learn only heighten the sense of foreboding or enhance the feelings of love between our characters.
Finally, the entire story is held together by some solid grammar. If a romantic dark fantasy is right up your alley don't hesitate to check this out.

The first thing that will stand out to you, when you read this work, is how well written it is. The variety of prose, their flow, the word choice. It's a joy to read. Grammar 5/5, Style 5/5 easily. The quality of writing is consistent, at least for the first 7 chapters.
Story: It's a cool story that's filled with detail. The world the story takes place in is clearly well thought out. I love the little details that give the world a lived-in feeling. The story in the early part is exciting if a bit slow-paced to start, but once things pick up it's very engaging. 4.5/5.
Character: The characters have personalities, desires and quirks. The omnipotent narrator will tell you what each person is thinking allowing the reader to get to know the characters well. 5/5

Overall 5/5. A great story, and clearly head and shoulders above most of the stories here on royal road.