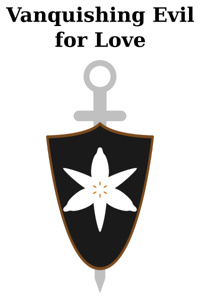 Vanquishing Evil for Love
An everyday man is summoned to the another world to become a hero, but he asks to become a girl and so is reborn as Princess Samantha, losing his memories. Growing up, she realises she is a lesbian. However, she struggles to find a partner and, in a society that sees homosexuality as a corruption of the soul, she doubts she ever will find love.
Then, on her seventeenth birthday, she discovers her divine powers. While initially unwilling to go on a heroic journey to vanquish the Great Evil, her friend (an aspiring Royal Guard called Julie) makes her an offer: Go on the journey and I'll be your lover.
So begins their (often light-hearted) journey to both vanquish evil and find love, getting in all kinds of trouble along the way.
Overall Score
Style Score
Story Score
Grammar Score
Character Score
Total Views :
9,704
Average Views :
313
Followers :
70
Favorites :
24
Ratings :
22
Pages :
518

A must read for those looking for a sweet lesbian love story.
The style may seem rather rushed at first but if you hold on past the first couple of chapters you will find that it slows down and finds its pace the moment it reaches the meat of the story. It may be simpler too view the first couple of chapters as prologue laying out the setting and main character while skipping much of the boring childhood years yet still allowing you a taste of what went on. That being said it's certainly not the story for you if you aren't a fan of light hearted slice of life as that is very much how it reads.
The story itself is as stated earlier light and fluffy with a good dose of reality thrown in to ground it from floating away. Our princess is talented in all she tries yet struggles with the one thing she truly seeks: love. Though, not for lack of trying on her part as she is very much a well known flirt and exceedingly open in her intentions. Our knight in shining armor is a tom girl who seeks to protect the people from the invading monsters and is willing to date the princess if that's what it takes. Their love slowly blossoms through their travels~
I have absolutely no complaints about the grammar, it is above site standards and hasn't tripped me up yet. It's quite clear that the author has a strong grasp on the technical aspects of writing and it all flows smoothly.
The characters are of course the main stars of the show as this is very much a romance novel first and foremost. They are each very distinct in voice, thought and behavior allowing for simple identification no matter the viewpoint. They also work very well together, with their skills complimenting each other in much the same way as their flirting dose.
I can't recommend it enough for any who seek a chill romance with realistic characters in a well grounded setting.

Short Review: This is pretty solid though the only flaw might be at the start where it feels more like a Greek philosopher lecturing the masses. However, this becomes a non issue really quickly and the story starts flowing much more naturally after the journey begins. I think that if you're a fan of adventure and romance that this is a really promising story worth both reading and keeping an eye out for when it has more content.

So far however, the writing and characters themselves are pretty well done and the story is slowly becoming more intriguing even though its only just starting out.

EDIT: Changed for clarity and change of opinions based on more recent chapters

Neat story. Came off a little too strong at certain points and had a few bouts of second hand embarrassment but overall pretty well put together. Only big problem i had with it was the formatting. I've never written a story on this site before so im not aware of the formatting options, but it would look better if the paragraphs were double spaced between each one and indenting them would help tons.