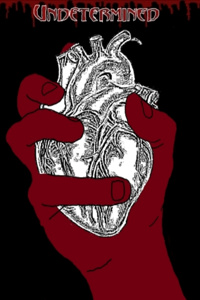 Warning
This fiction contains:
Gore
Profanity
Traumatising content
Death and Taxes.
The two insurpassable laws of the universe.
So long as humans exist in this world, these things will remain.
However, there is a 3rd law which has always, and will always implement itself on people.
Suffering.
Reincarnated in a new world, five people are forced to learn this the hard way.
Placed on 'Nightmare mode' and being reincarnated as monsters, they are forced to survive under incomprehensible conditions.
However it is only through suffering, that we grow as people.
And it is only through suffering, that we truly become monsters.
"Nightmare mode.... eh? Tell me, what exactly was this mode supposed to mean again? Were our lives supposed to become nightmares?"
Without suffering, there is no change in anything.
"Or were we supposed to become the nightmares?"
This is the story of the antiheroes.
[participant in the Royal Road Writathon challenge]
Overall Score
Style Score
Story Score
Grammar Score
Character Score
Total Views :
440,857
Average Views :
903
Followers :
312
Favorites :
92
Ratings :
65
Pages :
5,321
I want to like the story more It has an interesting premise and the characters are semi realistic.
The thing that feels so where about it is the strange optimism shared by the main characters and every side character associated with them. This, along with the internal monologue every character presents which varies from their actions to varying degrees.
I'm going to skip to the end and hopefully it gets better. I aim to keep an eye out for your next story and hope for an equally interesting story.

Ive followed this story since near the beginning, i cant describe how it feels to see it come to an end.
Style/Story:
Heavy topics, nicely wrapped in a world straight out of a DnD Campaign, with Heros as Villains and Monsters as Anti-Heroes.
The writing is beautiful, the story is thought-provoking and brings up emotions, ive felt as if i am part of this world and been by the side of our Protagonists all along.
The parallels one can draw to our own world are pictured in an uncanny way which keeps them abstract enough to not be insulting, but real enough to want one to better some issues.
Grammar:
Usually i can not say much here, cause I'm no native speaker, but it was a comfortable read and in no way was i bothered by the way some sentences are structured. Smoothely done.
Character:
Ive wanted to deducted half a star here because of the BBEG.. but then i remembered.. i hate him. I hate him so much that i need to give full points for the author to make him still realistic, but so inhumane, i cant fully describe it.
I also can not say much here, else i would spoiler too much. I'll just summarize it: <3
I adore her Eminence, i love and rooted all the way for the Anti-heroes, ive never hated and liked all the different side-characters in a story, but here.. its just a different experience.
This is one of my absolute Top10 read till today, and ive read a lot over the years.
I can not recommend this story enough.
Thank you so very much, dear Author.
How is this not in the weekly section yet? Thus story is amazing! The characters are realistic and make logical choices, and you have one of the most scumbaggiest villains I've ever seen. Gotta say, a job well done.
I have enjoyed the characters greatly. The switching of character perspectives is not overdone and it spreads the story out nicely.
The story itself is bit dark. It feels like a darker bit of humor. I would say that the characters' viewpoints create a valuable juxtaposition. The pacing is excellent too. I like stories that don't feel to rushed but are still going somewhere. I am however sitting at the edge of my seat wondering what is going to happen next, but that always happens when you read incomplete stories.
Overall I would definitely suggest reading and reviewing.
Fixing accidental 0.5 star from an accidental click. I haven't actually read any of this story yet. Don't know anything about it, so giving good in benefit of doubt.
Nothing to say about the story except that I am planning to review it, fat-fingered a 0.5 review and didn't think it was fair.
I know nothing about it.

The idea isn't bad, although seems very similar to "Worth the Candle", but the novel is terrible.
Worldbuilding is really poor, we barely know anything as per chapter 13. Description of surrounding are scarce and short.

Characters refer to themselves in their internal monologues as geniuses, randomly let out evil laughs during talking and congratulate themselves everytime they show even a bit of a common sense or ability to predict the consequences of their actions.
Their personalities are so one-dimensional and exaggerated they appear as caricatures.
Narration is awful, everything is directly told and even explained in detail, instead of shown. There was a scene when "System" said "the party is tired", then characters instantly started to complain.
The DnD/System elements doesn't appear to match any balance. It started as system where characters used very heavy plot armor and would easily become way too OP, then it was forcefully adjusted by changing most of the previously introduced rules to make it more punishing, only delaying the point where characters would become invincible due to leveling.
Even the part with character creation was really forced and "plot-armored". They were given forms to fulfill but the results were nudged in a way to make them a balanced party and give them good abilities, even going as far as forcing an MC into a class then praising them for unconventional "choice" and giving them more free bonuses.

And once I reached chapter 13 when certain new character appears, he was so cringy and abusive of his power, he toppled even the young master trope of the Chinese novels.
Side characters aren't even a bit better, either a mindless praise gallore or arrogant minions.

Grammar is alright, System information are consistent.