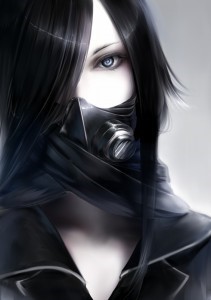 After having payed her weekly visit to her psychiatric, Lia heads home while thinking about her mother and Dr. Kris' proposition. Playing a game. Of course it's no normal game, it is the first Virtual Reality MMORPG released by Crathos Inc., the leading company in virtual reality games. Supposedly, the game would make her world whole again. Supposedly, the game would take away the boredom that is her life. """.. I guess I could give it a try; when was the last time I felt any excitement?"
Overall Score
Style Score
Story Score
Grammar Score
Character Score
Total Views :
356,086
Average Views :
6,982
Followers :
294
Favorites :
112
Ratings :
42
Pages :
286
Fix the problem with loading it updats nut no new shit need more Good work

This fiction is an awsome peice that was clerly thoguht out when it was first written. I love the MC, and the lesbian love that you added onto the story where Lia gets toghether with Abigail. Overall this entire story gets my heart pumping, and blood boiling.
The fact tht she is considered as pandora's reincarantion is actually quite fitting for the Lia. Since her basicly being a sociopath makes her suited for that sort of role. thoguh I do find it disapointing that Lia does not show much, if any, afection for Abigail past volume 2.
I honestly enjoyed this story, and would recomed it to anyone other than the coled minded.
There are broken tags everywhere in the story. Usually ones like [ / tbody ]

If you think you've seen everything the virtual world has to offer, then you're most definitely wrong! Accompany Twisted Nerves' heroine, Lia, and her friends in the chaotic journey they're going to make in the world of Hyria. A journey full of adventure and excitement, but also filled to the brim with blood and danger. Plus a bit of gore and madness, and just a touch of 'Yuck!'. Don't worry, you'll see what I mean. Long story short... I'm looking forward to what Kiyuta will bring out next, and so should you!

Keep it up , i like your MC she's cute~ , i want moar of it~
In all seriousness you could have continued the way you wrote before in the same style as volume 1 decided to quit reading after the horror part sorry. I feel like your trying to develop an original story instead making it worst than before. My advice is if you want to create a original story try to make a Virtual world with different set of rules there are a few good ones that doesn't follow the rules of RRL
As of "Voyage 15"
Since this seems to be dead I don't feel like holding back. Much.
Style
Fairly typical for the novels on here, but a bit too clumsy at times, and the fairly frequent POV changes create problems for the pacing. Nothing too bad, but could be better.
Grammar
That's actually fairly OK compared to some other stories. It's mostly a bunch of small mistakes, the type that's easy to make and easy to overlook, not anything that's annoyingly "systematic".
Story
Yeah, what story? This my biggest issue with the series: it starts of as a girl trying VR as a sort of therapy for practising seeing with both eyes again (I'm not actually sure that makes sense, but let's go with it). It's also kinda mixed up in that she can't feel emotions, but why a VR game would help with that compared to, you know, irl interactions is anyone's guess (it's fiction though, so let's go with it, too).
Unfortunately, beyond that there seems to be very little of any depth. She's just playing the game and leveling up. Some "romance" develops but it's not actually anything that changes much.
The entire issue is underlined by a lack of tension and sense of accomplishment. It actually starts out fairly slow-paced, which isn't the worst, but doesn't make much sense (death penalty is that players can't play for 2 days - wow, business suicide right there), having apparently a really tough time until level 7 or so, then she instantly goes from there to clearing a dungeon, killing a dragon, getting a super-unique class, etcpp. When she starts practising at a irl dojo, she doesn't just swing the sword a few times, she does it for 5 hours (quite impossible to do). When confronted by several dozen (or even over a hundred of players) later on, she kills them all. When she touches some random rock, she's suddenly eligible for Godhood.
There's no sense of obstacles to overcome, nothing. The additional POVs don't help: instead, they further dillute the entire story since they equally have no real story going on. Hum.
Characters
They are all fairly flat and same-ish. An unemotional heroine is a challenge, since - especially if you go for a character-driven story instead of a plot-driven one! - emotions are the easiest way for the reader to connect to the heroine. So when she doesn't feel anything much ... it's an interesting idea, but the execution of it perhaps wasn't quite good enough.
I feel the balance here needed to be different. Either it needed more of a plot with some serious antagonist etc so it's not so much about the characters. Or the characters needed some actual development; more trouble with her therapy and lack of emotions or whatever. But having neither was bad.
Overall
It's too simple. What mother pulls her kid out of school so she can play more games? Right, thought so.
It's not all bad or anything. Probably made it sound worse than it is. But it lacks something that keeps the plot together and generate real interest, at least for me.
la storia ke hai scritto è bella,m ma meglio i power ranger.....

this series was so good, then volume 2 happened and then the author poured rape and torture everywhere, ruining the whole thing for me.
Cant believe they were even allowed to sell a game like that...total bullshit

the good thing about weed story style is ...i can  skip a lot of useless thing like explanation about skill  item...inventory detail about 200 slot or so....well just amateur working is like this....just abother clone of weed...no originality.....-____-