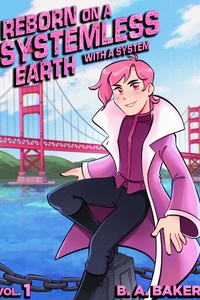 Reborn on a Systemless Earth... With a System
You know the setup: A young man on Earth hit by a speeding truck who ends up in a generic fantasy world.

But what about this: A young man in a generic LitRPG fantasy world hit by a carriage who ends up in modern-day San Francisco, and yet still wants to be a hero anyway? That's how Systemless starts, and boy does it never let up.
Join Eryk Solbourne and his two Earthen friends Francis and Delta as they adventure across the United States and try to achieve the impossible: becoming the ultimate hero in a world where levels don't even exist.
Cover art by the Romantically Apocalyptic Team.
Please vote on Top Web Fiction! You can vote once a week on each device for this story (and any others you enjoy!).
Overall Score
Style Score
Story Score
Grammar Score
Character Score
Total Views :
263,047
Average Views :
1,789
Followers :
451
Favorites :
143
Ratings :
184
Pages :
670

It's my first review here on rr, and english isn't my native language, but for the chance of creating a card in the story here i am.
Most of the chapters are short but the story dont feel rushed, it keeps a good balance of narrative development, the isekai aspect is explored in his own way, while the characters also progress in a unique way, Eryk keeps the protagonist status because the system but he still feel so much human, his interactions with the others characters and Earth is a good way to enjoy the story, to laugh and think about the world we live while still enjoying a good story.

So, characters are great, although the possible romance isn't my cup of tea it's still great enough to ignore it. Little to no grammatical or spelling errors. Definitely a potential top 5 trending story!

I dislike the characters I tried but couldn't get over how they're portrayed. That being said I give 4 starts in character because they're well done. I mean sure I don't like them but they're well done and fleshed out. Credit where credit is due. The Grammer is great the style is unique and I read a lot of it just for the smooth story. It's nice to read something professional level from time to time. Anyway everyone should give it a chance I'm dropping it but it took me 30chapters to realize it's not my cup of tea.

Summary: Systemless is a great fish out of water comedy with LitRPG elements. I.e. it feels more slice of life than action/adventure. There isn't really a lot of combat, instead more of a focus on exploration and learning (think Pillars of Eternity) and it works very well. That said, if you are coming here to read about a powerful combat oriented protagonist this probably isn't the story you should want.

Style
The story is fast paced with short paragrahs. That makes it a simple/easy read but from time to time it can be a bit too quick and distracting.

Grammar
What mistakes there were seem to have been fixed before I finished my read through. Nothing to complain about.

Story
It's more slice of life, so the plot isn't the focus but the worldbuilding is top notch. The story has done a good job so far of exploring the characters and how they interact with each other. The system serves as both an interesting plot element as well as a ticking time bomb that drives the plot forward, keeping things from becoming too stagnant in the Slice of Life Elements.

Characters
All of the characters feel fleshed out and real. The MC's fish out of water act is starting to wear a little thin, but at the same time he's learning. I'm most interested right now in how some of the secondary characters develop.

Seeing the title, i thought— Well that is stupid but consider me surprise.
This story rocks.
I'm a lazy reader and I prefer short paragraphs than long ones. And this novel is to my taste.
Short paragraphs with content. Characters are lovable and awesome.
Plot is not original bu the author makes it more interesting than others.
I hope you try this and loved it as much as I do.