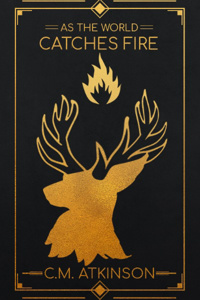 As The World Catches Fire
Warning
This fiction contains:
Rozin Kain never wanted a daemon.
In the world of Itrera, the human nations stand united against a powerful magical threat: the daemons, creatures of untold cruelty and destruction. To protect themselves, humans have found a way to bond these creatures to their souls, claiming their magic for their own.
A young soldier with a difficult past, Rozin has hated the daemons since they stole her life many years ago. Since joining the great Canavar military, she has dedicated her life to protecting the innocent by any means necessary. So when a routine mission goes awry and she is forced to bind herself to a mythical High Order—a cruel, beautiful daemon so powerful that she cannot be controlled—Rozin finds herself sharing a soul with her worst enemy.
Thrust into a deadly game of politics, Rozin must navigate the newfound perils of royal succession, coming war, a fiery love, and a dangerous realization: that her world's great evil may not be as it seems.
---
A map of Itrera and a list of the coalitions can be found here, or at the head of every chapter.
DOES contain: WLW/lesbian romance, political drama, sexual content, swearing, diverse cast, enemies to lovers. Please note that this romance does contain sexual scenes.
DOES NOT contain: sexual abuse/assault etc, graphic depictions of gore, homophobia, or sexism.
Posting quick updates because of COVID! Normally, I follow a bi-weekly update schedule.
Overall Score
Style Score
Story Score
Grammar Score
Character Score
Total Views :
71,951
Average Views :
1,799
Followers :
677
Favorites :
176
Ratings :
197
Pages :
401

A true fantasy story is a rare thing on Royal Road these days. The site tends to be saturated with litRPG and GameLit stories that tend to be the same retelling of the Legend of Randidly Ghosthound with a different gimmick. That's not always bad, but sometimes you just want some good pure fantasy.
If you agreed at all with that thought then this is the story for you.
The writing style is impeccable, using a few words to evocatively describe even the most intricate of scenes, the words painting images in your mind no brush could hope to compete with, it's really well done.
The story this far is phenomenal, the setting is unique and interesting, a world split between humans and the strange and powerful daemons, with humans gaining their power through forming a bond, wiping away the mind of the daemon and gaining a perfectly loyal slave. The concepts laid out in the early chapters promise a rich and fantastical world to explore.
The grammar is impeccable. No more needs to be said.
The characters we have met this far feel well fleshed out, interesting, and they seem to have properly developed histories and thoughts, which seems to be a rare thing in today's Royal Road.
TL;DR:
Give it a shot, you'll get hooked by the first chapter.
It's incredibly good. The writing is sophisticated, the plot is rich, and the character's are genuinely brilliant. Emotion is an invaluable part of story, and this one nails it pretty hard.
The only part of this story I think is currently lacking is the lore of the world. But I feel quite reassured by what I've already read that it will not be a concern.

This story has quickly become my favorite. I love how the world is built up, and the way it all comes together is quite fascinating. It's a fine balance with just enough information at every chapter, which always leaves me wanting more. Another big plus is the originality, it's not like anything I've ever read before, and I'm pretty sure it'll be my favorite work for a long time.
Even though I don't usually leave reviews, I felt this one deserved some extra love.
I can't wait to see how it all develops, well done Carlyn!

I've really enjoyed this story so far.
And as Michalhenson said it is a true fantasy.
This could easily be a published work.
This isn't your usual fare, that you'd expect to see on RR. The author has created a unique world with it's own history and life. We've had hints of various cultures from the story telling of a sage though as of yet none of this has really filtered through in story. The characters feel real and truly alive, each with their own wants, likes, dislikes, thoughts and motivations. The dialogue and character interactions have been realistic and logical.
The plot itself has been interesting so far, introducing our mc and her very unique bonded demon, though I expect this is just the prologue, an introduction to the world. We've had short introductions to some of the worlds factions with hints of more to come. Giving a bit of insight as to the likely plot of this story given the political tensions hinted at.
All in all the story has proven to be very comprehensive and entertaining so far. I found myself engrossed quite quickly and binge read the 13 chapters released so far.
Definitely recommend you give it a read. I have a feeling this one will make it's way up the best rated rankings quickly.

This is a fun and exciting story to read. The best part of this story is character development so if you're in to that, this may be a story for you. The two main characters grow a lot throughout the story where originally the main character hates daemons but when she finds out the truth about them, she slowly starts to accept more little by little.

this should be a hard cover novel you should pay for to receive the pleasure of reading it
unique world / setting / mechanics that hook you fully at the latest by the end of the first few pages
reading this feels like many moons of worldbuilding went into it
As The World Catches Fire is one of the best stories on Royal Road, and most definitely equal to any number of other published works. The look and feel of the story put me in mind of books by Naomie Novak like Uprooted and Spinning Silver, combining its unique world, character, and magic to great effect.
I've been especially impressed by the use of character. A lot of writers like to talk about a story being 'character-driven', but this one truly lives up that. The main character is her own person, with a past that is teased and implied, generating interest and suspense. Even as we understand the broad outlines of how she came to be who she is, the details are withheld and released piecemeal. It's always in what you don't say.
Meanwhile, Rozin is also clearly a character in development. Her cultural prejudices are being constantly changing, forcing her to reanalyze her assumption and reexamine her choices. This was artfully done - it's easy, in portraying a cultural bias (in this case the opinion on demons), to make readers dislike the character, but that's not at all the case here. I won't even get into Andiya, who's a great character. This fiery demoness has shown a lot of depth and range, even while her past remains mysterious (not to say there aren't some interesting hints). The tension and attraction between the two main leads, the push and pull, is great for creating suspense, anticipation and evolution.
I'm excited to see more - this story is on fire!
I don't care if you're part of LGBTQ+ or you can't stand the idea of two people of the same gender being together, or anywhere in between. This is a must read for anyone (that doesn't mind a bit of sexual content) if you haven't read this book you are seriously missing out. I aspire to be able to write this damn well. The story is absolutely incredible and the twists and turns are done with the expertise of a fine chef and the plot is aging like a fine wine. No matter how stressed I get over the situation I always end up getting physically excited for what's going to happen next. I absolutely love this story and can not wait to see what'll happen next!