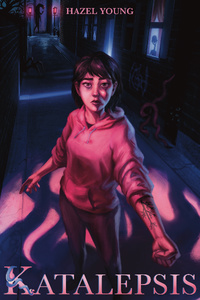 Warning
This fiction contains:
Gore
Profanity
Sexual Content
Traumatising content
Nightmares and hallucinations have plagued Heather Morell all her life.
Diagnosed with schizophrenia as a child after the loss of her twin – a sister who never really existed – now struggling with her mental health at university, Heather teeters on the verge of giving up on life. A chance meeting ends in a revelation: she is not crazy, her visions are all too real, and probably want to eat her soul.
Embroiled with a crippled, bad-tempered magician and her self-proclaimed 'bodyguard', Heather rapidly descends into a world of terrifying magic and otherworldly monsters, in an effort to stay sane, bring back the dead, and maybe, just maybe, make out with cool older girls.
Katalepsis is a Ancient Greek word which means 'comprehension', or perhaps more accurately, 'insight'.Katalepsis is a serial web novel about cosmic horror and human fragility, urban fantasy and lesbian romance, set in a sleepy English university town.
New chapters are currently posted once a week, on Saturdays.
This is a Royal Road mirror of Katalepsis' own website, located here, currently updated at the same time with a new chapter every Saturday.
Overall Score
Style Score
Story Score
Grammar Score
Character Score
Total Views :
387,114
Average Views :
2,846
Followers :
1,321
Favorites :
478
Ratings :
391
Pages :
3,396
I read it all on the author website. It's dark, it's not grimdark, it's cool, it's cute, it's full of feelings.
I just zoned out for 3 hours, messing my sleep schedules to get to the end of an arc.

It's well writen. All characters are interesting.
I'll follow this.

Incredible story easily in my top 3 best storys on this website. The characters all have tons of personality, insecurities and faults.
The story is very interesting and unique, but it can sometimes be a bit slow.
Cosmic horror and romance are a weird combination, it makes the whole story les bleak. This makes the story feel more like adventure than horror. In my opinion it just works really well.

Easily one of the best fictions on this website. The style is clear and flows well. The characters are all painfully real and well fleshed out. The dialogue feels natural and every character has their own clear voice. The romance is sloppy and fumbling in the best way. If you are looking for a thrill then this story is for you.

This is a story of people who, when faced with horrors beyond proper imagining, have been broken by what they saw. Such is the core of cosmic horror.
BUT, there is more. It is also a story of human resiliency, of picking up the ruined shards of one's soul and carrying on though the shattered edges are sharp enough to cut to the bone.
This story is a masterwork, and there is nothing more to be said.
Incredible story. Love the atmosphere, the characters and especially lozzie. I recommend reading it to anyone searching for something dark but light, scary yet sweet. I give this recipe 10/10
I read this a few months back on the website and I can honestly say it's up thier with the zombie knight or practical guide to evil, in quality.it admittedly has a very different tone that is (shocker) real reminiscent of something more horror oriented.
My only real issue with it is I genuinely have no clue what going on when the more complicated bits start popping up, making me reread chapters. However this is probably the intent or maybe is just my dyslexic ass coming undone either way check this one out it's worth your time
I'm pretty glad to have found Katalepsis because I love it.
You don't find a lot of content with this kind of horror and have it be this good. It's a fast-paced horror drama that makes you enter the head of the 'crazy person' Heather and experience what she sees through her daily life and how she deals with the horrific notion that that is and how to get better.

Stumbling across decent urban fantasy on RR is a rare occurrence for me. I wouldn't put the fault with the writers, as I'm well aware of the fact that I have peculiar tastes. However, I think that most of you will agree with some of the points I am going to try to make in this review.
The heart of the matter is: in most readings, I find myself disliking the same things over and over. Too often, I've ended up dropping a book because they hold so much of the following stupid themes: "this villain is just a token bad guy", "that character is going to die", "this battle will last exactly two chapters", "this villain will escape and come back to haunt the hero", or the good ol' "overconfident boasting villain will die pathetically two chapters later".
Simply put, most of these books don't dare to experiment. The authors usually have a very precise and specific idea of the direction the story will take, and too often, they stick to their own 'code' without bothering to try new stuff. This is the root of two phenomenons I hate above all else in literature: predictability and deterministic narratives. I understand that many people may disagree with this, but in my humble opinion, a fair share of urban fantasy I've read tends to be really uniform and bland.
This book is anything but bland.
Katalepsis, although not perfect, is an excellent example of why just occasionally straying from the beaten paths can make a decent book into an excellent one. It's far from flawless. As a matter of fact, it bears a few of the flaws I mentioned earlier. But what makes it so much better than the rest is that it doesn't rely on them. Admittedly, this book contains a cocky villain or two, and it can also be somewhat predictable. But it's always balanced by something. Whether it be crazy plot twists or the unexpectedly deep personality of some characters, Katalepsis always has something you didn't see coming.
As for the actual review of the book:
The story is solid, albeit a bit slow to start. There are a few kinks here and there, the introduction of some of the villains is a little bit too… melodramatic for my tastes, but it quickly gets way better.
The pacing is good and matches the MC's (mostly psychological) evolution reasonably well.
The worldbuilding is simply stellar. I never thought I'd find myself so enthralled in the descriptions of the cosmic eldritchness that is the 'Outside'. The approach to the magic system is very rational, and I enjoy it immensely. Note: I don't mean 'rational' in the sense that everything ties together nicely, but rather in the way that characters don't take things for granted. They try to understand magic with an approach that very much reminds me of the scientific method.
The grammar is excellent, although I don't usually care about it too much (nor am I the best at judging that).
The style is okay, not much to say about it.
The atmosphere is dark but not depressing. It's not edgy, and it doesn't sugar-coat anything, which I very much appreciate.
Finally, the characters: this is where this book excels. I could spend hours detailing how great I find the depiction of Heather's alleged schizophrenia is and how unbelievably… believable her self-doubt is. Without spoiling anything, there is no single main character in this book that hasn't surprised me at least once. And that's quite something. All of them are fully three-dimensional—even the dullest ones—and none of them feel 'forced' to me.
In conclusion, Katalepsis is a brilliant book that tackles serious issues in a confrontational way I very much enjoy while still depicting an incredible adventure full of deep and interesting characters.
Easily one of my favorites on this website.

This has one of the better moods for stories in the whole site. Permit a moment to explain.

Once upon a time, in my misspent youth, I played my favorite Tabletop RPG session ever. It was a Call of Cthulhu campaign, played at my friend's country house. It was late night, the candles were lit, the fields and woods behind the house were dark, and we were a bunch of magic-less mortals facing a supernatural horror. The DM was good.

The feeling of impotence in the face of real power, where you're hopelessly outmatched, and scrambling to keep your heads above water...The notion that there are things that you can't understand, and things that you don't want to. Playing with forces that are actually dangerous, things that man was Not Meant To Know. Being scared of learning things, and losing your humanity. The kinds of people and things you have to work with to live in this kind of world. The inability to escape that world.

That's all hard to capture in writing. I think this one succeeds

Good shit
The first few chapters made me feel a lot, which is normally hard.
It delivers on the horror, and in the romance too.
Just give it a try