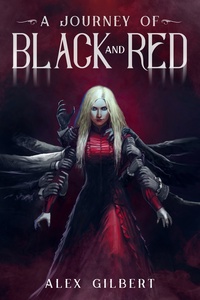 A Journey of Black and Red
Warning
This fiction contains:
Gore
Profanity
Sexual Content
Traumatising content
Where am I? What is this! I... I don't remember anything. I am in chains? Why am I in chains?! And why am I so very...
Thirsty.
This is a story of vampires as I believe they should be, with their strengths and weaknesses, with their remnants of humanity and the beast inside. Updates every Friday. Mind the tags.
Cover by Antti Hakosaari: https://www.artstation.com/haco
Special thanks to Svensonsen for getting me started, as well as Omi Nya, Jemima, my patrons and you dear readers, for the support.
Overall Score
Style Score
Story Score
Grammar Score
Character Score
Total Views :
2,356,812
Average Views :
18,854
Followers :
7,768
Favorites :
2,896
Ratings :
2,299
Pages :
2,369

Call me totally impressed, i found this story only recently, after it came on Trending and got interested because of the very positive reviews, so decided to give it a go. And i can only say it was fully worth the time reading this.
The trigger warning in the synopis is there for a good reason, this is not a nice and happy story, not at all. The MC gets enslaved and brainwashed, forced to fight for fun, and more of such, so do not start reading this story if you do not like that, such elements are especially prominent in the first arc of the story.
Before starting this story, it is highly recommended to throw away all misconceptions one may have gotten over time of vampires and other creatures of myth, especially the very idea that Vampires could sparkle while in sunlight. They are not at all like those decepicted in modern fiction, no, they are like in the Classics, like the tales told long ago.
This story follows Ariane, a young woman living a average life in early 19th century Louisiana, or atleast she did until one days she wakes up in a mysterious place, with no memory of how she got there, with a a terrible feeling all over her body, the so called Thirst. Soon she is told that she is changed, human no longer, a fledging of her Master, an ancient Vampire who is the one who has taken her out of her old life. She is soon made to serve her Master and the other Vampire Clans that have taken residence in the region of New Orleans. Yet, deep within she wants freedom, from this servitude, to be able to choose her own path in life, but thats not easy, not with the wide world being dangerous, with supernatural beings out there, ancient Vampire clans in the cities and of course, many humans would rather see her killed if they knew about her true nature, and hiding that is not easy, not when you cannot ever walk under the Sun again and have to feed from humans to survive.
The author has seriously written a great main character with Ariane. She changes so much over the course of the story. Its simply so well done, how she changes, and how her way of thinking changes with her, her character growth is simply massive, from being a scared woman, who easily gives in to her Vampiric urges and serves others, even if that servitude is due to her change, to what she becomes later on, far stronger in mind than she was and a free woman, yet still affected by her very nature, one that she has to sate at the cost of others, or risk becoming crazy from the Thirst.
Due to the nature of this story, other characters arent exactly prominent, but they are quite well written, with some even being great characters like Loth. I eagerly want to see just where the author goes with the characters, there is simply so much potentional, especially given the skill the author has displayed already.
The worldbuilding in this story goes deep, very much so. The author has taken the old stories and tales about Vampires and other mythological races, and crafted a story out of them, and this story is the result of that, set in the early 19th century where Magic and magical races do actually exist, if hidden from most of humanity, who would only fear them for what they are. And the author got the Vampires right, they are written as the author views they should be like, the nobles of the night, they who rule in the shadows, ever afraid of the sun, yet also savage blooddrinkers, who are easily led by their urges. Simply wonderfully done, even if the story still has a quite long way to go.
Near impeccable grammar, barely any mistakes at all, and those that were spotted got fixed pretty fast, to me it seems that the author is quite skilled with writing in the english language, overall the grammar quality is better than the majority of webfiction, however there could be still improvements. Readers should have no problems with the grammar used in this story at all.
Mecanimus, the author has a amazing writing style and that is especially shown in this story. With its great prose and overall writing quality, this story simply draws you in from the first pages, making one truly enjoy reading it from beginning until end. The great descriptions of scenes, the tension during the well written fights, all of them add to this story and make it even more enjoyable to read. Even the pacing doenst feel off at all, switching speed when neccesary for the story, either at a fast pace, or a slow one, but never slow enough that the story gets boring to read.
I eagerly await more to read, knowing that it will be very likely enjoyable to read every chapter as it comes, so keep on writing at this quality Mecanimus, and dont stop!
So stop waiting already and just go make the right decision with starting to read this story, so you can enjoy this beautifully written vampire story with a great mix of action, drama, worldbuilding and characters. This has totally not disappointed me, and i doubt anyone who wants to read about Vampires as they are will be.

A intense, visceral exploration of vampiric delights. Vampires as they should be, no sparkle, no nonsense - only violence, passion and lots of action. Ariane is a beautifully and expertly drawn character and an absolute pleasure to read. The fight scenes are gritty and tense, the world building is interesting and I am keen to see more.

Really good as of chapter 24. With solid writing, cool characters and a thrilling plot.
My only fear is that it might get less interesting after the first couple of arcs. So far it has not been an issue, but the beginning set a high bar and it would be easy to degrade into mediocrity.
So Mecanimus, keep up the good work, and keep writing great atmospheric situations and don't let the plot stagnate. The current arc as of chapter 24 is interesting, but i personally miss vampire politics.
Oh and i love the setting of 1800's ish America.
K. Love you. Bye!

This story is many things: a period drama set across the history of the united states from the perspective of a vampire, a coming of age story for an immortal, a beautifully written, character-centric story of a girl who overcomes a terrible situation, and shows noticable growth every single arc. Mostly, though, this story is just incredible.
Don't let the dark tags scare you away: this story isn't some edgy power fantasy for those who want to see the death of the innocents. Here we have a vampire that follows the bram stoker rules: no walking into a residence uninvited, no moving during the day, a weakness to silver, fire and sunlight. Oh yeah, and an incredibly well written inner dialogue of a simple southern girl fighting the new instincts she has to devour all who oppose her reign as the true top of the food chain like the cattle they are. This is a story about this girl who grows into her own code of conduct, doling out a bit of poetic justice where she can, while interacting with monstrous beings of myth who have hidden from humanity, just beneath the surface...
So yeah. It's really good. If you like character centric stories with great inner dialogue, and aren't afraid of seeing the crueller parts of humanity, i'd say give it a go.

A period vampire story that respects the classics without imitating them, this is a well writen and so far well thought out vampire drama that has avoided all of the usual pitfalls and cliches.
I am thoroughly enjoying the story and I eagerly await more chapters.

As it's a review I am going to include what I hope is constructive criticism. I do want to state upfront that I really, really enjoy this work and will continue reading it as more chapters come out. I would also recommend this to anyone who does not mind the occasional gory scenes. But on to the rest of the review.
The style and grammar are excellent. My only issue is when it comes to POV changes, since they often involve new characters never seen before, they could be better introduced to make the shift easier. Even something as simple as starting them by subtitling the POV with a name and short blurb on who they are, before starting with the POV chapter. The author does provide some backstory during the POV chapter, but until it is finished, the chapter itself feels strangely disconcerting. At least to me, though maybe that is my own personal taste and your mileage may vary.

I also like the story and how the arcs progress internally and how they relate to each other. I will only nit-pick about the worldbuilding. One issues is that vampires weakness to sunlight and inability to operate during this time seems to be a debilitating weakness in an era with gunpowder and other explosives. This would seem to make them incompatible with having resting places that seem to be well-known to other vampires who seem to have no compunction about turning on one another for their own gain.
One of the antagonistic organisations also seemed strangely fragile considering how they were able to obtain a powerful artifact from the Rosenthal's guard and co-opt the US Army for their own benefit in attacking a civilian's house. Their American branch seemingly evaporates overnight with the removal of a high-ranking member as governor. It does not completely break suspension of disbelief by being too unbelievable, but it does push it right to the brink.
I also have doubts about how the masquerade that hides magic, vampires and werewolves from the general public can continue. All of this "otherness" obviously has great utility and is not restricted to a single individual or handful of individuals but involves thousands of people. There are thousands of people all over the world who can slip up and share information that then will be passed on to other people. With very good reason to not bother hiding it and using it. For example, why would the Gabrielites aid in hiding this information when sharing it with the world at large is one of the easiest ways to obtain recruits and turn the public against them? Sure, maybe one or two leaders might feel secrecy is better, but in such a large organisation with a long history, there are bound to be a few firebrands who are willing to break the masquerade beyond any hope of repair. Many people might not believe it, but with the number of vampires and mages running around, it should be much easier to break the masquerade rather than to keep it. I would find it more believable if it exists similar to the idea of the criminal underworld. It exists and most people know of its existence. But few really know about just how far it reaches (or does not reach), nor the details of how it really operates and its relationship with more "official" powers; as opposed to how they believe it operates. Having written this entire paragraph on the masquerade though, I am happy to note that while this story does contain a masquerade it does not pretend that it is all encompassing and that no "civilian" suspects the existence of the magical. Its just that the story sometimes edges close to breaking the suspension of disbelief.

I am especially fond of the characters. Everyone who has more than one or two lines in this story feel real and three dimensional. Even the major antagonists, with the exception of a certain judge. However, the sheer size of the cast means that even one or two more stereotypical characters do not feel out of place. Just like how most blondes you meet are unlikely to be ditzy bimbos, but (if you meet many blondes), one or two of them being ditzy bimbos does not feel completely unrealistic. What I think elevates the standard of the already good characters in the story is that the author is able to convey emotions for not just the main character, but also the supporting characters as well. That and how no character seems to do something purely for plot reasons, but because those actions seem to be in character for them. I tried really hard to come up with some constructive criticism on the characters, but the best I can come up with is that some seem more stereotypical than others. However, even then this is trivialised by how the author is able to make it work and give them real emotions and believable actions in the world he has created. TL:DR version; the author is just too darn good at creating and writing characters. Far beyond my ability to critique them.
Its not really a category, but I also appreciate how the author has kept his work free and promises to keep it so. While also including a patreon page and some works on Amazon. Much respect, and I also know what I am going to ask for this coming Christmas.

Edit (28 October 2020): Amended one of the comments to be less spoilerish. When I read it through again I also think my "daylight weakness" argument seems weaker as a lot of it is based on conjecture. I still think its a valid point, just a relatively weaker one than I initially thought.
Edit (3 December 2020): Amended title because some assumed it was about Rule 34.
Edit (7 April 2020): Updated some details from the newer chapters and tweaked some of the review's phrasing to be clearer.
I think it would suffice to say that I pledged my support on patron after the first 60 chapters. But for anybody that would require a more comprehensive review, I will try my best at highlighting what makes this novel great, not perfect, but great.
First of all, it gets better the more the story goes on, style wise, story telling wise, character and world building wise as well as plot wise. There are some less engaging and duller parts, though I dare say this is highly subjective, but the more the story progresses and the more polished everything feels.
I will try to keep this spoiler free, but in case I should fail in this endeavor, beware. You have been warned.
Now into the heart of the matter. The start of the novel is a solid 10/10, the perspective chosen for it is great : not only does it allow you to share in the MC disorientation but it still lets you keep a comfortable distance that permits a wider understanding of what is going on. The result is the acute consciousness of the MC's predicament as well as a fair understanding of the general situation. It is so engaging and high in emotions that the end of the introductory arc left the second arc tasting blander than it should have for its overall quality.
For the characters, well, the MC isn't overtly original in its base model, though the coloring added and backstory give her unique quirks and peculiarities that make her either amusing to outright hilarious to simply badass as death, without falling into simplicity through the addition of obstructions and adversity throughout the entire story. All of that being masterfully thought through and brought to life by Mecanimus' incredibly elegant and refined writing style (did I mention it gets better the more you read.
Side characters are like-wise purposefully introduced and developed in such a way that you never find yourself wanting for more neither being fed up with anyone of the characters. Every arc finds closure, every character serves a complex purpose by the intricate but subtle development of personalities, little by little bringing you to a better understanding of everyone of them. I should also mention that the world-building is so well done that it feeds itself further. Indeed, the characters are never one-sided or simplistic and can always make a come back to bring more life and depth to the story and serve as highlights for newer characters.
The magic is soft, it is not clearly defined (as of yet) what it can and cannot do, yet it is powerful to be sure, and takes part in the story as one more element to a deep and complex world. Nor overpowered neither feeble, it is perfectly balanced, depending heavily on the user to determine the height it reaches.
It is overall a great vampire story, punctuated by many references to various subjects, be it litterature, language, civilisations, history of which the accuracy deepens that much more the immersion.
The vampire side of it leaves nothing to be desired and avoids cliché and overused tropes, but I will let you discover for yourself what it really means to be gifted eternal life, in this superbly reconstructed 19th century.
I am not a fan of vampire stories. I don't particularly enjoy history. I don't like period stories, and I don't generally enjoy stories written in first person.
This... Monster masquerading as an author has put all of those things into a masterwork that is far more compelling and absorbing than it has any right to be. I have almost never had a story suck me in this powerfully. The writer is clearly extremely highly educated, and expertly puts that to use to great effect. The characters are intelligent, witty, and fully three-dimensional from the moment you meet them, but not in a way that feels overwhelming - rather, in a way that just feels real and right.
I have not yet finished reading all there is of this so far, but I can already tell that when I do I will be feeling the Thirst for more. This will be going on my personal best-of-all-time list, and I highly, highly recommend that everybody read this, even if you think you won't be interested. You'll be in for a ride.

A dark and gritty vampire story. It calls on Bram Stoker's Dracula and Anne Rice's Vampire Chronicles but doesn't just copy them. The world is set in the Southern United States two decades after it was formed, specifically around the French speaking populations.
The vampires in this story aren't nice, they burn in the sun and sleep during the day. They drink the blood of humans and fight with other magical creatures like Werewolves and mages all against a backdrop of a still tumultuous United States of America. It has interesting interactions between its characters all influenced by traditional European, Native American, and African cultures. The characters' different backgrounds influencing how they perceive and interact with the main character.
The characters are well written and well explored. They each have people they trust and distrust, they betray each other and help each other, they have likes and dislikes, flaws and strengths.
The pacing of the story is a breath of fresh air when many stories on this site have much trouble with either rushing through or going so slow that it turns into a slice of life.
The plot is well thought out and interesting. The main character has her share of ups and downs, walking a twisting road through life trying to avoid any of the truly powerful entities in the world that could kill her in a second flat.
All around a very enjoyable story. It is perhaps a bit Grimdark for some people's tastes, at least in its characters' flexible morals and proclivity towards violence. If you like a more down to earth and gritty depiction of creatures that can only survive by taking lives then this story is definitely for you.
Reading this story I flashback to my youth where I voraciously read everything that the Youg adult section of the book store had to offer. Vampires were very much in vogue at the time and every book involved them in some way. Some were good, some weren't. It was always a deep pleasure to find a good one. This story reminds me of some of the best of those. It treats vampires as they ought to be, as magical creatures with significant strengths and weakness as opposed to immortal superheroes. It properly answers the question of " if vampires exist what else is out there?". It makes its world exciting and skillfully contrasts a few different writing styles. I hope to see this story continue on and keep filling the vampire shaped hole in my heart.