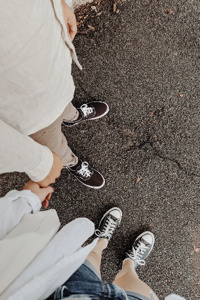 On the Ship (girlxgirlxgirl)
Three teenage girls, living on the colony ship Horus One as it makes its thirty-year journey across space, have found themselves in an awkward romantic triangle. After some dramatic discussions and love confessions, they have decided to try out an unconventional relationship-- they're going to date each other. This is their story, one week in.
This is a one-shot story prototype. If it's popular, I might expand the story into something bigger.
Overall Score
Style Score
Story Score
Grammar Score
Character Score
Total Views :
2,519
Average Views :
630
Followers :
12
Favorites :
7
Ratings :
8
Pages :
17

Overall
The main thrust of the story and the theme explored was interesting. Not sure why it had to be set on colony ship, but then again, there's no reason it shouldn't be either. But more importantly, I would highly recommend the story. It tackles an interesting thought experiment with some clever situational exploration.


Style
The manner in which the idea is presented perfectly suits both the nature of the topic and the characters involved. Approached with a great deal of levity, yet also laced with interesting (albeit shallow) philosophical underpinnings, the writing truly helps to get into the mindset of a teenage girl (or at the very least, what seems like a reasonable simulacrum of it). Having the three different perspectives from the three involved in the trio helped shine light on how the unusual arrangement was actually faring.


Story
Mundane, slice-of-life events make for some tedious moments of reading (could just be because I don't much care about what goes on in an ordinary school girl's life). However, there was a very nice moment in the fourth installment where the author presents a very obvious challenge to the trio by placing them in a very typical situation BUT I couldn't see it coming at all. In essence, it was obvious in hindsight and an ultra satisfying, natural consequence of their arrangement.


Grammar
Yes, the author seems to proofread, edit, and type well.

Character
I must admit, I didn't really like the characters that much, as they all seemed rather one-dimensional. There were brief mentions of their thoughts beyond the relationship, but it was primarily focused on their thoughts and feelings for each other. They felt like caricatures of humans.