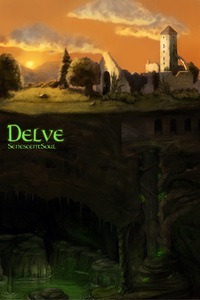 Warning
This fiction contains:
Gore
Profanity
Traumatising content
Summary – Level 1:
Delve is an isekai litrpg that follows an average guy who just happened to wake up in a forest one day. He wasn't summoned to defeat the demon lord or to save the world or anything like that, at least as far as he can tell. The only creature there to greet him was a regular old squirrel.
Soon enough, he meets other people, only to discover that he can't speak the language, and that not everybody immediately trusts random pajama-wearing strangers they met in the middle of the wilderness. Things generally go downhill from there, at least until the blue boxes start appearing.
Delve is a story about finding your way in a new, strange, and dangerous world. It's about avoiding death, figuring out what the heck is going on, and trying to make some friends along the way. It's not about getting home, so much as finding a new one.
Did I mention that there will be math?
---
Summary – Level 2:
Okay, but what are you in for, really?
Well, this story is supposed to be realistic, or at least, as realistic as a fantasy litrpg can be. The main character doesn't instantly become an all-powerful god and murder-hobo his way across the universe. Delve is, at its heart, a progression fantasy, but that progression is meant to feel earned. The numbers in this story actually mean something. Everything is calculated, and if you find a rounding error, I expect you to tell me about it. That said, if math isn't your cup of tea, there is plenty more that the story has to offer. Characters are meant to feel real, and progression isn't only about personal power; it's also about allies, connections, and above all, knowledge. Figuring out how the system works is a significant theme.
...
What, you want more details? Okay, fine, but this is going to get a bit spoiler-y. Are you sure?
Yes!
Really sure? I mean, this summary is practically half as long as the first chap–
Now!
Okay, okay!
The main character becomes a magic user, but he takes a route that is not very popular in adventurer culture, namely that of a support. There is a full magic system with various spells, skills, and abilities, but our MC decides that aura magic is the way to go, and that the only stat worth investing in is mana regeneration. Most people at the Adventurer's Guild think that this makes him a bit of a dumbass, but he's playing the long game. We'll see how that works out for him, won't we?
Because of his build, the MC levels up fast, at least compared to normal people. There are no cheats, though, and he is limited in other ways. There are some clear and pretty obvious downsides to his build. That's what makes it fun, no?
Morals? Our MC has them. Again, we'll see how that works out for him. Realism, remember? Would you be okay with killing someone and looting their body? I sure hope not.
POV? The focus is on the main character, but there will be occasional varying perspectives from people around him, or involved in the events related to the main plot. It isn't going to jump all over the place.
Tech is standard medieval stasis. No smartphones, but the MC does have a technical background. Computers and their programming might be involved. There might even be a bit of uplifting down the road, who knows? Anyway, it isn't the focus. He isn't going to invent the gun in chapter 1 and change the face of warfare.
Romance is not a major focus. Friendships are more the name of the game, though there will be some characters in romantic relationships.
There is exploration, though not as much of the geographical nature as you might expect. It is more about exploration of the system and the culture.
The pace is slow and detailed, sometimes verging on slice-of-life. The action is meant to be realistic and grounded in the numbers, and it is intended to have meaning beyond simply punching things until they stop moving.
The general tone of the story is grey, and some parts can get quite dark. People die. Sometimes, people with names, but not anywhere near GoT level. There is plenty of light, too, though, to balance the darkness. The world is dangerous, but overcoming that danger is why we're all here, isn't it?
Anyway, if you've made it this far through the summary, you clearly like words. I hope you enjoy the story!
---
Cover by Miha Brumec
Summary Updated: 2020-06-14
Overall Score
Style Score
Story Score
Grammar Score
Character Score
Total Views :
8,400,766
Average Views :
53,851
Followers :
16,190
Favorites :
6,714
Ratings :
5,564
Pages :
2,951

I ended up dropping this one, but more out of personal taste rather than from any lack of quality on the story's part.
Why you may like it:
It's a very in depth LitRPG, and the author has clearly put a lot of work into the system.
Unlike most LitRPGs, the action scenes are nicely detailed. Aside from the main character's internal monologue, people don't just go around shouting the names of their attacks. The author actually takes the time to tell us what's happening with descriptions.
I dislike the LitRPG subgenre because many writers either care about their system more than their story, or use the system to help cover up lazy or sloppy writing. In Delve, it's clear that the author hasn't skimped on the prose, and is genuinely working on giving us an actual story... even if that story is about the system.
Why I dropped it:
Too much G, not enough RP. The main character is basically obsessed with figuring out how the system works and making it his bitch through the power of mathematics. Very large parts of a lot of the chapters so far focus on the MC sitting around with his notebook as he looks for the best way to optimize his skill points and daily experience gains... And every bit of it is written down for you in glorious/horrific detail.
Do you want to know what his mana regeneration will be if he puts a skill point into Ability A as opposed to Ability B? Do you even care? Will it affect the plot at any point in the future?
No. Probably not. I highly doubt that a character's life and/or the fate of the world will ever be determined by a single misspent skill point.
But what if it was two points?! Think of the possibilities!
No. The answer is still no.
Overall:
If you're a fan of a series because it's a LitRPG, you'll love Delve. If you enjoy a series despite it being a LitRPG, you probably won't love Delve.
If you don't feel to strongly either way, then, at the very least, it's worth giving a try.

Old Review
A good and fluent story with little to no grammar mistakes and wholla lot of maths. It has a great start with solid world building and realistic and fun characters (except mc for now because he can be frustratingly naive when it comes to adapting a different world with its own culture and moral system). The story hooks the reader but be careful. As much as the story is good; the pace is abysmal (A chapter per week and usually no real improvement story-wise). If you don't mind the pacing I definetily recommend this story.
Update
Okay, when I first made this review the story was really slow. But right now it's at the point that the story nearly stopped. And the quality gets worse and worse. As I said before the author updates weekly and most of the chapters fill readers with tons of useless (or for some just repetitive) information. At this point the author just drags his feet. Again and again at this pace this story MAYBE will finish in one or two centuries so think thrice before starting it. And believe me I didn't made this update in a fit of rage. The story just became worse.
First of all, as some have already stated, this novel has top grammar. Punctuation is very well utilized, slang and mannerisms is kept to dialogues and moments of introspection. Now, on to the review, per se
For the story, about a third of it has been noteworthy... His interactions with the smith and the silverplate have been probably the most memorable, but that's it, kinda. There's a bunch of dips*** characters who are sh***y just for the sake of being so, or being bad for being bad, so on and so forth. There doesn't seem to be a driving force, some kind foreshadowing or reasoning. It seems they are there for the sake of forwarding the page count, and some later get 'retconned' into being nice.
The idea about killing monsters, lairs, adventuring is cool -- that's why I picked up the novel. But all he does is kill slimes and clean stuff wherever he goes. There's the occasional mob who isn't a slime, but those were maybe 6 chapters in total? Not sure, but can't have been many more than that.
When the MC isn't killing slimes or purifying stuff, he is micromanaging his build. And, honestly, the whole blue screen thing is being overused. Every chapter, there's a good 10% 'wasted' with copy & pastes of his stats, learned and maxed skills (useless info eight times out of ten). I say 'wasted' because it doesn't really subtract from the chapter's length, but it does inflate the novel's page stats.
Then there's the whole obsession with math, which is what drove me to write this in the first place. Honestly, if someone did the math (...heh) and found out that a fourth, or maybe a third of the novel is just MC doing math, I wouldn't be surprised. While it is nice seeing some of the author's focus seeping into their work, some chapters end being a deluge of numbers and formulas. Example scenario: instead of MC thinking "If I compress my aura's radius while empowering it and channeling more mana, it will do more damage!", he goes on a tirade of "If I compress my aura by 80%, I'll get a 1,8x buff, coupled with empowering it for another 100%, giving me a resulting 3,6x buff. I can also channel more mana into it, but then the efficiency might drop by about 50%. In any case, the resulting damage can be expressed by (ca.ea).(ch/eff)=dmg, which would be a bazillion damage points." It gets old fast, especially when repeated so so so many times throughout the chapters, and sometimes on the same chapter.
Honestly, thinking about it while writing this, little stands out as straightforward storytelling. It is better than a lot that's available, as proven by being on the trending page, but sometimes it just feels like meaningless filler.
I mean, it's good if the author enjoys themselves. It's their novel, their writing, they're the ones who have to like it most, but still. I hope the new arc feels better.
Good in the begging, interesting enough character and good worldbuilding but just way to slow. It was manigable up until chapter 100 or so when he had to leave the town for spoiler reasons but... nothing is happening! There is no interesting story development, fairly little character development, and it is focusing way to much on the side characters (IMO). Maybe it will get better, but im not going to wait to find out comsidering how long it takes to release.
This is an ok story.
However! The SenescentSoul invests an incredible amount of words and chapters into irrelevant sideshows. Combine this with the fact that there is only one chapter per week, and you get basically no movement on the main plot for months at a time.
I expect that this story will never be completed. At the rate it is (not) progressing, you have to expect that some kind of life event (good or bad) will put the author off writing.
It's a shame actually. Boiled down to about 20% of it's current length this story could be really good.
To become a nuclear reactor. The plot progression is also like watching nuclear reactor functioning daily, too much of system but no progress. You will not miss anything much whether you are at chapter one or at the newest chapter. My recomendation to new reader is to let this novel to be completed first and binge reading it once.
Rain's character development starts about five or six hundred thousand words into the story.
At this point it feels like one of those xianxia novels that the author is paid by the word. Things are so immensely, pointlessly, painfully dragged out that I'm in it just for the sunken cost.
For the past few seasons I've read it once per month, making sure I have at least four chapters to go through at once. In those sittings, it feels merely slow.
Reading week-to-week? No. It's ridiculous.
It's supposed to be a "progression fantasy", but there is no progression. The MC is a naïve wet noodle with the personality of a wet towel. One the very latest chapters that has started to change and he is beginning to plan for a titular Delve.
The worst part is, in a more technical sense, the author writes well. The grammar is damn spotless. The ideas for the overall story seem neat. The world looks interesting.
But it never gets there. There is promise on top of promise, but it never delivers. At this point, this is cleary a job. And with a couple thousand patrons with 2.5 USD as cheapest tier, the author is raking in a (probably senior) engineer's salary. So, living from "very well" to "like a king" depending on where he lives.
If he can make that much money with a chapter a week of almost nothing happening, well, more power to him for beating the system like that. But I can't in good conscience not call it out either. This is a review of the story, not his business plan.
Given how little it has progressed and how much it has promised to do, and the apparent success its had, I don't doubt we will see this cow milked for at least a decade.
So maybe make a note in your Google Calendar to check the story once a year or so. ~40 chapters should be a good half Arc.

Edited for Chapter 150.

If you like the idea of a "LitRPG" Slice of Life and waiting months for something interesting to happen, you'll like this novel.

I originally liked this novel because of the math, the litrpg elements of it, and the system, but that was when I had a backlog to read and the MC was actually leveling up.
Probably 3/4ths or 2/4ths of the story has the MC stuck at his level cap with him only being able to level up his skills. From the moment he got his lvl 18 cap in the first place to the current chapter, he has made zero progress on increasing that cap.

Instead of finding ways to raise his cap, the MC decides to form a group run by democracy with most of its members being normal people with no levels. This group's goal is to give normal people the ability to use magic by killing blues[The way you gain a level cap in the first place and also raise it by killing a higher level blue].

Many chapters are devoted to math and optimization, but the funny thing is that he usually can't put any of that into practice for meaningful lengths of time. His class is one where he has a ton of mana and uses auras but guess what? He can't attack effectively without damaging himself and those around him due to how his auras affect the surrounding environment.

It becomes even funnier when you realize that there is a skill that will solve that problem and guess what? He can't get it without raising his cap, thus keeping him as a glass cannon until he does!

I still read this novel because I hope that it will improve and become a LitRPG again with the MC, Rain, actually leveling up again because right now, it might've been better off without litrpg elements.

Edit of ch 145: Rain still hasn't leveled and has only recently gone down into the dungeons to increase his strength. I'd say 1/3rd of the chapter was about him using velocity to jump. So, yeah. The pacing still sucks and he appears nowhere closer to leveling up.

Edit of ch 148: Rain has leveled up, wow! Except, it's only level 24, one level short of Rain being able to achieve Silver. I'm sure it'll take multiple real-time weeks for him to find a level 25 Blue and 4+ weeks for him to reach his max level. Level 24 is the most useless because he doesn't become Silver-Class and can't use more than 1 Aura until he reaches level 26.

The pacing is horrible.

Edit of ch 150: Two chapters of not focusing on gaining new levels or purchasing new skills and focusing on boring stuff instead. This novel is the best example of what terrible pacing looks like. Future authors, look at this novel and make sure to not follow its example.
The long and short of it is that the pacing is terrible, might as well not exist. The thing that drew me and many others to this novel is not there anymore. I honestly do not recommend this novel as it is now. With the Author only releasing 52 chapters a year, I am not sure when it will get better or when it will end.

If it ends and we're all not fossils in the dirt, then go ahead and give it a read. Otherwise, read something else.

First of all, i would like to say that the Author knows his stuff, the characters, the world-building, just well written and chances are you might actually like it.
But... my "low" rating comes from the fact that the story seems to go nowhere, no plot, the Mc's just hanging around, basically doing nothing, talking to his friends, doing maths, or else viewing his character sheet, which sometimes takes 1/3 of a chapter (Blue screens, blue screens and more blue screens, believe me, it's annoying).
Beside that, the Mc seems to be a push over, he's too...hmm... cautious? nice? lack of self confidence? or maybe lack of self respect? people disrespect him "all the time" and he does nothing about it, and it's so frustrating. anyway, that's not the type of Mc i'm into.
And last, I really hoped for some adventures/thrills but that doesn't seem to be on the menu. So, (I have not decided yet) i might drop this novel soon.
Update: dropped it
When the story started, it was nice. Awesome world building. Great grammar.
Now? It's still good but it's seriously so slow that I might have wait months for the story to progress.
There is too much maths for my taste, but that's manageable. However the pace is just so slow ( a chapter a week and usually not much development) that if you want to read this story, I suggest waiting for it end.