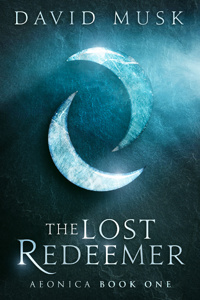 Warning
This fiction contains:
Gore
Traumatising content
Aeons once ruled the world with a power called Ethermancy. They reigned for centuries until a human faction called the Templars overthrew them. Now, their empire lays in ruin, and the survivors hide in every corner of the world.
Nahlia is a librarian's apprentice who's obsessed with Aeon lore. Until now, she had only read of their powers. But when the Templars attack her family, Nahlia is forced to infiltrate a secret academy and rise beyond everything she's ever known.
---
Book 1 (The Lost Redeemer) is complete.
Book 2 (The Justicar's Heir) is complete.
Book 2.5 (Sky Pirates) is complete.
Book 3 (The Crowned Sanctifier) is complete!
---
Overall Score
Style Score
Story Score
Grammar Score
Character Score
Total Views :
671,154
Average Views :
3,274
Followers :
816
Favorites :
228
Ratings :
204
Pages :
1,651

Perplexingly, this novel starts slow and a little laden with lore. Don't let that slow you down. It quickly speeds up into the tale of a young girl thrown into a magical world that she struggles to understand. It IS written more like a traditional novel than a light novel, but I consider that to be an asset rather than a fault. Just be aware that it flows a bit differently than what you'd expect.

Style
It is well written and enjoyable. Perhaps a little slower to get rolling than I'd like and with a little bit of lead footedness near the beginning but it quickly picks up into a well written and enjoyable read.

Grammar
I didn't notice anything so very good.

Story
The world is dense with lore and the author does a good job of introducing it without exposition dumping. It feels like a well planned out and lived in world rather than one invented on the fly. The story feels epic in scope so be prepared to buckle in.

Character Score
My biggest weakness is that I have a hard time identifying with the MC and the other POV character. She is well written as a girl scared and alone in a terrifying world, but I'm not sure I'm interested in that. In short, the characterization is good but a bit different than I would be looking for on Royal Road.

Summary
This is young adult fiction but well written. Much better written than most things on Royal Road (and frankly better written than many of the young adult stories turned into movies). It is easily worth reading if you enjoy the genre.

This isn't the normal, find a theme, find a trope, and fill in the gaps for your steriotypical story. This is a full, well edited, and imersive tale. A history and an adventure. Every instance the author keeps you trapped deep down into his writing and doesn't waste a word.
This has the feel of a book that has been edited and re-drafted until everything fits together perfectly.
Stylewise this isn't an area I can judge. It feels familiar, and it works for the story the author is telling. It does well to avoid tropes and predictability.
As far as grammar, I can find no faults in any of it. This is well edited and the author and readers have clearly gone over this with a fine tooth comb and picked out and corrected any obvious mistakes. Just for laughs I plugged in a couple chapters into grammarly and the only things it preceived as mistakes were the names specific to the story.
The story is complex and rich. Everyone is right in their own eyes. Each action taken has some deeper impact at a later time. I can and will keep you hooked and pull you further in by each line.
All of the characters have their own distinctive personallities, histories, and quirks. Each relationship is complete and real.

If I walked into a bookstore and pulled this off of a shelf I would be a very happy reader indeed. This is a well-polished, beautifully constructed piece of literature, and I mean literature.
The flow is perfect, the writing is immersive, the descriptions are detailed and the plot rivals some of the greats.
This is almost a flawless, full marks from me, but I do find that there are some convenient moments in the story that don't always logically follow, and seeing characters act irrationally when they have been nicely set up can be a bit jarring.
The characters themselves are great, and a lot of personality is injected into them in a very short amount of time. It's economical writing, and very effective. The tradeoff is that I am yet to see multiple facets from any one character, but I will happily update this if that changes.
I spotted a few typos along the way but nothing glaring at all, and the author has generally fixed them within two minutes of me pointing them out! David Musk is clearly committed to his creation and I always love to see that.
The grammar and style are really spot on, and it makes for easy reading. There's not much to say on this matter, because really it is as good as it gets.
I had to review this at some point, and my review comes earlier than I would like. If the fiction carries on at this standard, and I suspect it will, then I imagine it will be one of the best fantasies I've read in recent years. My comments above may appear critical but I'm really pointing out tiny blemishes on an otherwise absolute gem.
I will be coming back to this, and I fully anticipate more of the same great quality, and perhaps even better!
Read up to chapter 30 but never really got into the story. If you are upto chapter 4 - 5 and not enjoying it, this is likely not for you either.

Disclosure: I reviewed this as part of a review swap
I started off struggling with this story. I felt the premise was going to be boring. I was wrong. :D
The first few paragraphs of chapter 1 start off really slow, but I pushed on and by the end of the chapter I was hooked.
So far I am very engaged with the fate of the main character and curious about the world the author is creating.
as of chapter 6, the story seems to be progressing well.
I have some concerns right now with character motivation, there is a degree of luck without which the main character would surely be dead and she has yet to really show us her potential as a character.
But, considering I have over 800 chapters to go... im faairly sure said things will develop :P
Thanks for the great story, once you get past the first 3 paragraphs of chapter 1, its great!

Warning for minor spoilers in the review!
For a fantasy story to engage a non-fantasy reader, Aeonica is certainly doing something right.
The first book quickly hooks you with an excellent description of its setting and characters, and the writing style is very pleasant to read. Sentence structure and word choices are great, and although similes and metaphors are used as descriptors quite prevalently, they're still done at an appropriate level and only serve to enhance the reading experience. While the pace of the first handful of chapters leaves little time for us to get close to Nahlia and her world due to the plot, I think it's done on the fly quite well. Plus, I'm only an eighth done the first book; with how it's been handled so far, I'm confident we'll have lots of time to become perfectly accustomed to the setting and characters.
Also, many of the action-packed or suspenseful chapters leave you with tense cliffhangers, urging you to turn the page so you can find out what happens next. I had a hard time putting the story down because of that; not only does the story hook you well, it keeps you interested for the long haul.
However, one thing that stood out to me was Nahlia's lack of reaction to a couple of the more traumatic events that happened early on in the story. It is mentioned in the story how she's been on the run for a long time, which tells the reader that Nahlia has probably steeled herself quite a lot by this point, but I was still a bit surprised to see a lack of emotional response to such events.
I also did see a fairly noticeable number of typos and minor errors throughout the first half dozen chapters, but the author quickly fixed them when pointed out (props!). For now, consider the grammar score tentative until I've read more.
I'm still very impressed with what Aeonica has to offer. I imagine the story is only going to get more spicy from here!
"Please just give me a chance I promise I'll do whatever it takes to fight for our race"....
Intriguing. That's one word to describe the entirety of this book. I read it in two days which is itself a recommendation for the story. I especially enjoyed the evolution of the female lead from intrinsic unrefined naivety to true artfulness. The even pace, the suspense and the intricate weaving of the plot was a huge turn on for me.
All in all, it was a good read!
Overall: The story is good, massive bonus points for it being finished.

The setting makes sense, and the characters got to have more depth and character development in 60 chapters than some do in the entire story for other fictions on this site. The plot is well rounded and you can empathise with most characters' motivations.
The only problem with the story I have is that the "even greater evil" was kind of tacked on in my opinion for the sole intention of creating a sequal. Not to say it was bad, but introducing a new antagonist 6 chapters before the book is over doesn't feel right to me...

Grammar/Spelling is by far the worst part of this story, nothing that makes it impossible to understand what is going on, but just annoying to make it difficult to parse what is being written. The worst offenders are random " marks that make you search for when the character started/stopped speaking and mistaking 'sparing' with 'sparring' in a couple of places.

Overall, enjoyable read and well worth your time!


I haven't gotten far into the story, but the Illogical and entitled way of the MC is grating on my nerves too much...
Stylewise, the story is quite good, and from what i could glean it actually looks like an interesting world setting, so if you can handle flawed MCs, it might actually be a good read for you