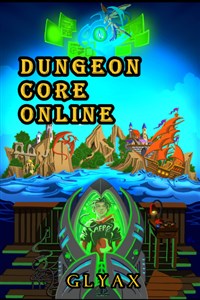 James hates his real life. He spends his days being bullied in school, and at home he simply reads and plays games. The only thing he has to look forward to is immersion. When he is immersed in the virtual world he can be whatever, whoever, he wants: He can escape the world that has thrown him away.
As such, when a new game, Dungeon Core Online, comes out, James is excited to play. He immerses himself as soon as he can, but when he is set to create his character he is instead offered a different choice. Now, James is the Dungeon Core and he suddenly finds himself wielding more power, with more options, than he's ever had before. The only downside... there are people in the real world who do anything, even kill, to gain the power of a Dungeon Core in the virtual world.
*Currently Updates Every Friday Starting August 16, 2019*
Overall Score
Style Score
Story Score
Grammar Score
Character Score
Total Views :
3,641,023
Average Views :
10,003
Followers :
3,326
Favorites :
1,426
Ratings :
1,126
Pages :
1,943

Story starts as a very nice dungeon building story with many nice unique ideas. A very nice and enjoyable read.
Until it suddenly is no longer about dungeon building but about conspiracies, the MC being completely and utterly at someone else's mercy and it being a totally different genre (for people liking that genre it might be nice, no idea. I do not like (and if it started as that kind of genre just would not have read or rated it) and I defnitely do not like the inconsistency of genre of suddenly ending in that genre after so many chapters...).

This book is really good, the main character is fun to read, the system is good, the plot might be a little slow but i like books that do that the right way like this one did. But the fairy "Rue" makes me want to immediately swat her with the nearest boot or anything, seriously she is the most annoying dungeon helper I have ever seen, and i've seen a lot. Even when the story progressed I tried to keep going and ignore her, but no, she sucks and drags the whole story down. Honestly if she was changed than this story woul be at least 4 stars but as of now she drags everything down
The Good:
This story will drive you crazy only to then pull you back in by making that crazy thing awesome. Come into this story expecting puns, easter eggs, crazy shit. I had a ton of fun reading this and can't wait for the new chapters to come out.

The Bad:
The MC is pretty wimpy and the pixie is basically abusive. The beginning part is pretty cringy to read.
I still don't love the kind of relationship they have. A lot of jokes made to cover up any serious feelings that come up. Hoping that this is just so they can grow as characters later on.


If you're looking for a serious story, this is not for you.
Well I have been slowly bliztikng this story and here are my thoughts.
a) James is not a real gamer, he keeps making too many dumb mistakes and is WAY to slow on the uptake for me to beleave he was a "top teir" gamer.
b) James is a wimp who is willingly sacrfising real work money to a npc for some very stupied reason. Also I hate that pixie like delete her. See point a) if he was a real gamer with that much power he would be beholden to any npc (devs/admins yes but never some npc)
c) The level designs are good I can easly envision them A+
d) The fights are wonderful! A
e) as a nerd I like the references. some may find it heavy handed however
f) Too much time outside of the game. I don't care about his school life, his partents, Goverment BS or his bully (save maybe the tiny revenge aspect) or this admin stuff.
Ever rapidly hit the skip/next button, hoping to be un-slaved from a strict and "single option only" tutorial? Only for it to never fully go away? I thought that was what was going on until chapter 12. Then it dawned on me, this IS the story. The MC is actually pushing all player decisions onto the PC. Then pretends the remaining not-really-an-option "options" are important. The natural evolution of this is idle mode, followed by offline idle mode. I've decided to take the author's lesson to heart and drop this story, even though there's 28 more chapters to read. Someone else can read them for me, form their own opinions of them for me, and I might or (most likely) might not throw in an edit later acknowledging or denying said opinions.

Got to say was not expecting to laugh so much but exploding sheep just hit me really hard for some reason. Great story so far and a have no qualms recommending it to others.

I loved it right up until the new twist with a new bad guy. It was entertaining as is and would have loved to see where it could have gone but the new bad guy totally ruins the entire story.

I hate when a story is centered around a week willed main character that has an abusive companion. The pixie isn't funny to me she's a b and shouldn't be in the story. Most dungeon story's end up this way when they have a girl companion. The mc loses all semblance of control over there choices.

A fun take on the dungeon core novel. A punny world with random creations. Lots of references for the reader to laugh or snort at (I don't judge), though the logic of them appearing may be weak. The villain is acceptably irritating enough you wanna punch him, but the reasoning for why is weak. Because of the villain the plot is weak. The world is lots of fun and I wish the game was real as the concept seems like a lot of fun to have and the community building is also good.
Interesting world building but the companion character is too annoying. Also really dialogue heavy