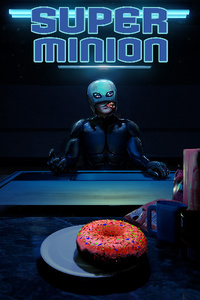 Warning
This fiction contains:
Fortress City has Super Villains, who have evil lairs, and in them they make super weapons. But when a bioweapon is granted super powers of its own, will Fortress City be able to handle the Super Minion?
Overall Score
Style Score
Story Score
Grammar Score
Character Score
Total Views :
3,344,367
Average Views :
56,684
Followers :
11,772
Favorites :
5,268
Ratings :
3,786
Pages :
999

Definitely deserving of its position in the top ratings section. Holy cow, this story is a beast that has successfully nabbed my heart.
It has very interesting backstory that is obscured by the forestory. Mysteries galore. MC's stilited humanity is certainly a breath of fresh air. Although it follows prevalent contemporary elements, it's not just a shallow reskin of some of the popular web fiction.
MC's inhuman streak is certainly a gold mine of humor and potential. So far, all the new elements only reinforce previously introduced elements which form an interesting story. The light bulb of narrative continually warms up, revealing more and more of the construction site that is reading this story.
I love it! Wish there was more.
The first few chapters were hard to get through but after few chapters the story takes off and is super addictive.

Always had a fascination with non human protagonist, and it being a shifter to booth. My type of flavour.
The perspective of the MC was strange at first but truly is an amazing character. Looking at human customs from a perspective with out human knowledge is so interesting. The moment when you understand what the mc was describing is so satisfying.
Also dessert is best.
Chapter 22 Jailhouse Rock Candy is the funniest thing I've read this year. Super Minion is a great story, very well writen and very, very funny.

Somehow Googlesbear has created a world that is equal parts terrifying, comedic, and sweet. The main character is fascinating not only in the way he was created, but in the way he somehow is a being of mostly pure logic and reason that kills things, but he/it still as time to make friends, play videogames, and eat tofu burgers. Somehow it's as innocent as a child even as it works for a super villain and kills people without mercy. Usually, a horrifying concept, but it somehow works.
A surprising read that leaves me hungry for more.... And for tofu burgers

My dear author,
You've done it. You had an idea and wrote a story set in a superhero/supervillain universe without making it about heroes or villains. I can't tell you how great it is, mainly because I was getting really bored of the melodramatic paper thin plots you get with superheroes/supervillains.
You used a main character (because "it" is not a hero or a villain) that can credibly exist and let the reader learn about the world surrounding it. You also made the character have an actual progression with the stuff it is learning.
Oh boy oh boy. It's so fantastic I could shit my pants and it would not make me grin any less when reading your story. And what a story it is. No useless melodrama, side characters are not any less human human then the average people you meet on the street and dialogs flow like mountain springs in the middle of the spring.
Seriously, I would kiss you had I known you.
Five stars.

Simply Grand super hero story with an inhuman MC that acts inhuman.
I'm pretty new to this site, so I hope this is fair comment.
I found the story incredibly compelling. You basically owe my work a half day because I wasted their time reading your (Tofu's) story. He is an outstanding antihero: sympathetic, interesting and intriguing, who feels like a hero but acts against the heroic archetype in such a subtle way (violence notwithstanding) that we almost don't notice.
This is a book that deserves to be published. When it's done.
So, having said that. It needs a *ton* of editing. Not for the content, which is great. But for the plot development. Because at the moment, this reads like a TV drama: episodic snap-shots that are strung together to no other purpose than to hook the reader from chapter to chapter. You do this brilliantly, but it's not a book.
The one thing it's lacking (and I'm not saying it's not in your head, but it's not in your narrative - and 29 chapters in, it should be by now) is an actual plot.
We had a brief glimpse, early on, of a plt when we met Mr Slick. And I'm sure you meant to bring that back in by now. But there's really no sense of what Tofu wants or of what obstacles he is going to face to get it, nor of an on-rushing major obstacle at the climax of the story.
Having said all that, I'm aware that you're writing this as you go along. There's plenty of room and time for you to weave all of this back in. And this is an incredible compelling story (it would make a great TV serial, btw).
Keep it up. I'll follow along.

I like this story so very much, I hope Tofu can one day find it within himself to trust someone, share his secrets and maybe even fall in love 😍
Please keep this story going!