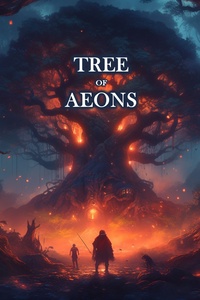 Tree of Aeons (An isekai story)
Warning
This fiction contains:
Gore
Profanity
Traumatising content
This is a reincarnation/isekai story, about Matt (later TreeTree), an overpowered tree in a fantasy world that serves as the battlefield for an ongoing conflict between demons and the heroes summoned to oppose them.
At first a bystander, over a long period of time, TreeTree will learn all sorts of skills, gain levels, and in doing so, build up a forest, train young subordinates, protect a village, and more.
warning :
Time skips happen a lot.
Overall Score
Style Score
Story Score
Grammar Score
Character Score
Total Views :
3,909,371
Average Views :
24,743
Followers :
7,094
Favorites :
2,738
Ratings :
2,287
Pages :
1,915
It's crazy to me that a story like this is rated so low. For what is it, a litrpg about a tree, it's phenomenal.
There's a lot of creative systems in place and the chapter length is quite long. My main criticism of the story is that character development is average at best, but that's not really the focus for these types of stories. Also having an editor would really help polish a lot of the chapters.

It's definitely worth a read if you enjoy these types of stories.

I binged it in 2 days and it's one of the better stories i've read. there are some small errors but it's still perfectly readable.
Tree of aeons an isekai story is an interesting take on the iseakai but the MC is now an x genre. It stands apart in the lack of tangible benefits the MC gets: rather than getting some bonusses or a lucky break that coincidentally their unique nature allows them to make exceptional use of the MC here is just a tree, with a soul, but still a tree.
Because of this and the nature of the world in which the story is set, there is a different perception of time: trees don't do anything for years on end, nor do they see what's going on outside, and as such a large part of the story early on is just the MC talking to the select few who can speak with him and then trying to help, getting attached and experiencing the world through others, a experience the reader shares.
I won't go into later sections, read it yourself if you want to read those.
Style:
Generally acceptable, though nothing outstanding. Some odd word choices every once in a while.
Story: There isn't a lot of plot early on, because the MC is a tree and therefore can't really do much, but as the MC gets more competent and slowly starts to influence its direct surroundings it starts having issues which it deals with. There isn't a big bad evil out there to fight, at least for the MC, and so the story is pretty slice-of-lifey with growth inserted to show progress,
Characters: Pretty good as well. People are affected by things happening around them, do introspection, strive towards their goals etc. There's nothing earthshattering here, but there also isn't anything to complain about. Watching the MC think about how being a tree has changed his perspective is something not every story of this kind does either.
Grammar: All the points for placing the words in the correct order with the correct letters.
Review as of Chapter 49.
At the start of the first chapter I found the descriptions very bare and the writing lacking, but the writing style works really well with the timeskips and overall point of view. However, the writing style isn't as good when it comes to focus on conversations. The author seems to understand this and keeps those to a minimum.
I really like the plot, it seems that the main character won't achieve a humanoid body for a long time (if ever), which is good. I dislike when 'monster' or inhuman stories have the monsters achieve a human form halfway through and lose the entire point of the story.
There have only been a few interludes so far, so the story isn't bogged down by too many POV changes. I would appreciate an interlude or two about someone who doesn't directly interact with the MC's reaction to the MC, though.
Grammar isn't outstanding, but it isn't bad - I've also only noticed a few spelling mistakes but nothing big.
Characters... So far, most of the characters, while lacking a bit of depth, have felt realisti. The human enemies not acting like complete idiots, also not being complete evil and actually having motives and be willing to compromise. The MC's and his allies have also remained in character and not acted oddly for no reason. Much better than most stories on this website.
Finally, the author also recognises criticism, which is always a massive plus.

it impresses me that spaizer could form an really great novel from this kind of concept. i expect it to be kind of boring and generic, but it suprised me and im happy i found this one :) it brings new fresh air, the mc doesnt behave like your typical goody two shoes and has an actual character. All in all i enjoyed reading it so far and hoping for more !!

I like how original and creative the story is. The MC being a tree makes for an interesting point of view on the world and the conflicts therein.
It also makes the MC partly adventurer and partly dungeon core.
The writing makes it obvious the author is not a native English speaker as it contains quite a lot of errors, both in spelling and grammar. For example someone jumping 'out' of their horse instead of 'off', which made me chuckle.
The writing is also often a bit childish (or childlike?) or simplistic. The MC is also kind of strange in his thought processes, he kind of becomes almost like a monster or chaotic neutral. Or maybe he always was that way, I haven't read a lot about his previous life.
I love how creative the author is with his world and the story he's building. The MC being a tree is a first for me and a very interesting choice for a non-human MC. Being a tree makes for an interesting POV since he obviously can't move around and is very long-lived. This is why there are a lot of 'time skips', which is a bold move but works very well.
All in all I think if you're not as bothered as I am by grammar and spelling mistakes this is a good story and worth a read. If you are like me and struggle to keep reading a story with all the before mentioned flaws, I'd still recommend giving it a go. There is a lot to like here.
The story is unique, which is somewhat rare, and I thouroghly enjoy the main character. His priorities seem somewhat contradictory until his full development is revealed. Many fictions allude to drawing power from nature, but here, the nature theme has actual depth and motivation.
The writing and character development both start out a little shaky, but they improve as the story progresses.
Grammar-wise, the mistakes usually aren't bad enough to detract from the story, though a few sections overuse single quotes and commas.
Though it receives some mixed opinions, I approve strongly of TreeTree's self-centered, aloof mindset, but I fail to understand why that neutral attitude leads him to dote on certain people while casually contemplating killing others. It's one thing to have a pet you enjoy, but it's another thing entirely to re-structure your progression to accommodate creatures whose lives will be over shortly from TreeTree's perspective. Then again, I do tend to be overly critical about shifting focus away from the main character.
All in all, however, I am enjoying the story, and it definitely deserves a read. Have fun with the puns and plot twists :)

A reincarnation story into an actual tree
Not a tree that just learns magic straight away and starts moving around or a tree that turns humanoid straight away, literally, a tree in a magic world, slowly growing from a standard tree into more and more.
The beginning is a bit icky, but you can ignore the reincarnation part completely as it barely has any play in the series.
This one is decent, it grows itself and area around it, gains some limited combat options later on and expands its influence within the limitations of what a tree would do.

This fiction is a piece of gold. Let's start by the fact that the MC is a tree as you read the story. It gives a different progression, atmosphere, and writing style from your usual System story. It is also very engaging. You'll probably find yourself "rooting" to know what happens next as you read. I recommend reading it.

A grind fic is what I call any story where the main character reincarnates into a litrpg world as an animal or plant (snakes, trees, and bugs tend to be the most common as far as I can tell). These stories are kind of a guilty pleasure for me since they tend not to have much substance and a lot of the time the most hyped moments are just when the MC is choosing their evolution path. That said this story stands out a lot from the standard grind fics I've read on this site because it also amplifies that with a well executed city building subplot and some very interesting worldbuilding. We've slowly gained more information about the gods, demons, and heroes though a lot is still a mystery. The story also has plenty of interesting side characters and a surprising amount of genuine tension.
edit: I'm not sure if I'd even classify this as a grind fic anymore, even though that's an arbitrary classification that I kind of made up. The MC's growing powers are still an interesting part of the story but there's definately a lot more to the story. It can't really be compared to the simple yet pleasant stories that center almost entirely on the MCs growth anymore. I guess the city/empire building and mysterious world lore aspects of the story have surpassed that one at this point. That being said my favorite chapters are still often the ones where the MC gains new powers.