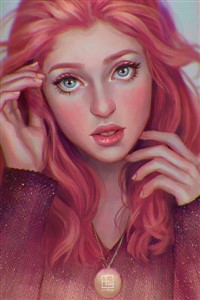 Warning
This fiction contains:
A young woman by the name of Elena wakes up one morning to a blue screen in front of her.
This blue screen tells her that she is one of Two Million people on earth chosen to be Beta Testers in a new game called The Game Of The Gods.
Welcome Elena! You have been chosen as one of TWO MILLION people on the planet Earth, to participate in the beta test for The Game Of Gods. This game includes a non-disclosure agreement which has been automatically signed by you!
As a beta tester, you have the right to The Tutorial. Would you like to take it?
[Yes] [Remind Me In An Hour] [No]
What will she do?
Cover art is by Serafleur https://www.facebook.com/serafleurArt
Overall Score
Style Score
Story Score
Grammar Score
Character Score
Total Views :
211,518
Average Views :
4,700
Followers :
1,063
Favorites :
283
Ratings :
272
Pages :
379
Alright here we go, a new up and coming trending fic! This new fic so far has been struggling with pacing and flow in my opinion.
Here is the most basic example:
MC gets chosen by a god and what follows is the most basic interaction i've ever seen for dedicating your life to a god.
God: "I'm tired, end the cycle"
MC: "I don't trust you, but okay"
MC sees girl's butt
MC: "I just realized I'm gay"
Literally just spend 3 more paragraphs and you make the conversations somewhat believable, but having it so short and curt makes it just ridiculous.
The pacing is weird, the story is set-up to have a huge apocalypse like event, but we've spent a large amount of chapters following the most typical plot device of the super evil bad guy serial killer who pretends to be a teacher. The trop that has been used a 1000 times. We are still at the school arc and that won't even matter really once shit hits the fan...
World building needs work badly, 2 million people get a blue screen and the only noticeable difference in the world is increased gang violence and some crazy serial killer stalking a high school girl.
Fourteen chapters so far, and I've been grinning the whole time
Style: it's a lighthearted story that is well put together. Light bits of LitRPG, I think it is a welcome addition to the genre.
Story: Main character gets voluntold to be part of the God's beta test. Unique in its implementing so far, I can't wait for more to be posted.
Grammar: on point. In fourteen chapters I have picked out two misspelled words. Even those aren't bad, as it was a case of "aloud instead of allowed."
Character: So far we only have true depth to the main character, but it is excellently done. It looks like some of the side characters are getting built up, something I am really looking forward to. All characters do have interesting points and it is early yet in the story, so I really expect this score to go up.

There are plenty of sories on Royal road that start slow. This one doesn't. I enjoy a book that pulls my interest into the plot early on. This book does. The author writes a story that is the perfect amount of serious plot, funny and quirky charcters, and plot twists. The author excels at wrighting all the stories charcters as unique and emotionally complex individuals, which no easy task. Youll find no 2d-cardboard cutout characters in this book.
A book were people have fun flavors to them. People are not just plot points that are evil ir good because they are but have real texture to them and each one feels different. I hope to see more of this great book. Also i do not get why people say the storie has thing happen for no reason thats called life not everything has to be world ending. Anyway its a good book so read it and like what you want to like about it and dont be gruppy because some thing dont make sence in the first 5 chapter like some people.
Also to the asshat that gave the the storie 1 start because they didn't do the same as every other writer and use blue box stop. You write a half good book with blue box then tell me so i cant still call you an asshat.
This is my first time trying Royal Road, it certainly won't be my last. What fun this author and his story are!
I'm an old fuddy duddy who read Lord Of The Rings 9 times by the time I was 13, many years ago, so to see a new genre that has moved beyond fantasy is very exciting. I remember a series, long ago, i think "Otherland" it was called that hinted at this, but back then the internet was too new (to me) to have the idea sink in.
Now that we are in this age, young authors have a whole new creative landscape to play with, and this young man is making a stellar debut. I hope you continue writing and sharing your fun wit and cute insights in to your character's thinking for many years to come, Corwin 1030.
Write that new chapter! If you don't I shall send Puck to change you in to a donkey!
Oberon, King Of The Fairies

Chillngbear said it well below. Things happen for no reason at all.
Yes, this story does seem to move along quickly, and so do it's characters. But that is far from a bad thing, as the story does not stall out of really ever let up on the intensity. So far at least. I almost stopped after the first half dozen chapters, but like the author says, if you can make it past those, the writing just draws you in. Finished everything written in one go and I have no regrets. Granted when the story moves fast it is hard to flesh some things out, but we get a lot of good action this way, so I'm not complaining. Keep up the good work author!
Litrpg where author uses blue boxes but refuses to put the information into a comprehensive table.