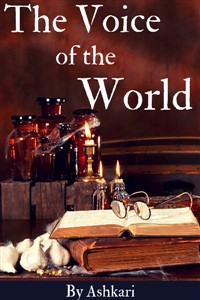 Jason Elric used to be an ordinary college student living in the heart of San Francisco. He had a part time job, he played online games with friends he got along moderately well with, and he earned reasonably good grades. The worst he really had to worry about in life was turning in his coursework on time and not being late to class.
Now, though? Now fighting for his life and running from a horde of giant frogs that want to make him their next meal is just another Tuesday.
Thanks to a summoning ritual gone terribly right, Jason has found himself trapped in a world eerily similar to the role playing games games he used to play for fun. Unfortunately for the now ex-college student, everything happening around him is terrifyingly real and if he wants to survive, he'll have to figure out how to exploit the system for his benefit before it's too late.
---
The Voice of the World is the first part of what is planned to be a multi-book, Isekai LitRPG story with crafting elements, set in the fantasy world known as Verdania. This is my first time posting online for public consumption, so bear with me as I work to find a style that people like.
While I may occasionally write scenes that may deal with heavy concepts, expect this story to be primarily light hearted high fantasy. There will be a lot of common fantasy tropes involved, as this story got its start as a simple practice exercise, rather than any plan to actually post it. However, it's grown on me, so I felt it's worth sharing after all.
Thus, if you're looking for more serious/original/unusual stories, you might want to look elsewhere. For the rest of you, feel free to leave suggestions, as well as to point out grammar and spelling mistakes; I'll do my best to make edits to correct them. I do my own editing currently, and it's easy to miss things when you know what's supposed to be there, so such call outs are highly encouraged.
Content TLDR: No harems, probably no romance (unless it makes sense for the story later on) (it did, eventually), definitely no sex (keeping this PG-13 or close to it), limited profanity. Does/Will contain mixes of magic and technology (think Warhammer, Final Fantasy); copious amounts of blue tables; race, gender, and sexual equality concepts; crafting sequences; and (slightly, but not overbearingly) strong protagonists. If you don't like these things, go elsewhere instead of downvoting people for content instead of writing quality.
Update Time currently varies, due to personal injury, but the goal is 1/week on Wednesdays, with a possible smaller chapter on weekends if time/health permits.
Overall Score
Style Score
Story Score
Grammar Score
Character Score
Total Views :
1,551,262
Average Views :
25,431
Followers :
2,430
Favorites :
744
Ratings :
818
Pages :
927

This is an amazing take on the over done alternate world with a system genre. I love how unique and alive the characters are and how the systems seems more alive and flexible than many stories include. I should have done this review long ago but I'm horrible at keeping track of these things so I'm hoping this will encourage the author to return to writing.

In a world of ghost hounds and various specters of all kinds, a light shines in this world! I look forward to it's future brightness one way or another!

Overall recommend to read by RRL standards, but lackluster in a few ways. I recommend new readers to give it a try without reading other people's interpretations (including the rest of this one).
That said as of Chapter 40:
Grammar is fine, I didn't notice any obvious errors.
Style is nothing crazy good/bad, too much detail at times but I've seen worse. One issue I found is that for the chapters I read, the author seems to have a hard time keeping focus on the party as a whole. At a few points I was like "wait where's that other person", this is more of a big deal since there's much more focus on the main 3 characters compared to having a single MC.
Characters: good for RRL standards but their motives and general feelings feel pretty unclear or forced to me. The romance thing seemed really oddly forced and generic (despite how non-mainstream it is supposed to be), and combined with the story getting boring made me drop this from my reading list. If all the technical detail was character interaction instead I think the characters would be way less of an issue.
Story: initially it was good, although it might have been a function of having relatively little to go off of. Once the party met the first native humans it really ground to a halt in a bad way. Additionally, the little tension that was in the story was kinda lost, so it ended up just being boring.
That said, I think the author has talent, and even if you have high standards it's worth it to keep track of their future works.

Growth potential is very exciting.
I enjoy watching the slow build to Elixirs of Immortality and AI Empire!
It's only one good DnD roll from automated potion crafting, and endless engineering marvels, hurray!
Almost too much worldbuilding or crafting descriptions. Actions sequences are good. Personally I would like more action but this is your story.

So far I'm really loving the story, the characters really jump out at me as real I like the MC and and the group he's taken up with. As the story progresses more and more background gets into woven into the story. I learn more about the system and I really like how its put together. The villain is not overly present but I like that I like the story to be about the main characters and only a tiny bit about the villain. The main characters not op but he is strong and progressing.

This has been one of the most enjoyable litrpg's I've found on RR so far. I especially love that you keep blue boxes to a minimum of what's required for info purposes and have seperate chapters dedicated to stat page updates for those who want to pore through them. Wish more people would do that :D
Can't wait to see what develops between Kera, Lumi, and Jason.
P.S. Hope you feel better soon, can't wait for the next chapter :)

Don't quit! love this story! The game ideas swiftly flow from weak MC to OP MC without feeling like there is no challenge. The inventiveness of the MC (and therefore the author) is a perfect way to keep any readers attention.

I could wish the story was being updated more frequently. And the main character has had power creep, although the enemies they're facing are pretty powerful too.
Besides that, this is a well put together story, and a great example of working with a lot of the tropes of GameLit.
I could be long or wordy but as you can see by my two failed works, I cannot write. Which is disappointing because I have a girlfriend who is a semi professional writter lol. The long and the short of it is this, I made it to chapter 12 and I know more about how the system works than the characters. It does not help that every good character is good and every bad character is bad with very little to no gray. Its like the star wars syndrome. It is not fair to say the characters are flat though but I get the distinct impression that each one is the same person with a different background. I understand writing what you know but mabye you need to really understand more people instead of just putting yourself in their shoes. Long of the short of it everyone thinks roughly the same with just diffrent motivations and experiences. While I am not a man of action and I can reconize the need for explanations but this guy/gall manages to make fights an explanation. I have never felt less excited in a life or death situation in my life. Its like reading an auto biography written for an English class. Now for the politics, despite his warning there really is not much in here which is nice and the few times it happens (while tone deaf and kinda insulting) can be largely ignored. Despite the fact that I agree with the writer politically if you cant do it well don't do it at all. Seriously I don't think I have ever seen a bi person act that way and I should know because I am dateing one. Tldr this is an enciclopidia of a system with a little bit of story thrown in to introduce new information.