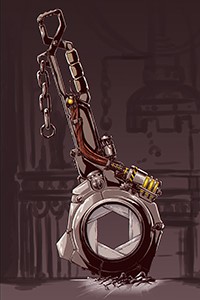 Small Chests Are Fine Too
Warning
This fiction contains:
It is an undeniable fact that good things come in small packages. More often than not, it is necessary to trim the fat in order to bring what really matters to the forefront. Having extra bulk may seem like a good idea, but in reality it is merely a crutch that will one day become a hindrance, as it is no substitute for personality nor ability. Indeed, often times it is the small things in life that brighten up our daily lives and constantly remind us exactly why we do the things we do.
However, it is important to keep an open mind, for while bigger is not always better, there are also times when it is. This holds especially true when it comes to hopes and dreams, which have been known to require a suitably large container from time to time. And while dreaming big could potentially lead to massive dissapointment, one will never truly reach fulfilment if they think too small.
A truth that one small woman with meager aspirations is about to find out.
DISCLAIMER: This is a spin-off/side story of my main series, Everybody Loves Large Chests, which is also mandatory reading to understand this one. It runs parallel to the main plot, branching off from the chapter titled Upheaval 2, so there will be spoilers for anyone who hasn't reached that point.
Overall Score
Style Score
Story Score
Grammar Score
Character Score
Total Views :
944,777
Average Views :
26,244
Followers :
1,944
Favorites :
978
Ratings :
598
Pages :
592

Exterminatus's...exterminatuses...whatever his books are like crack is to a crack addict, like fresh rain after a long drought, food to the starving, and a fresh pile of ants to the hardcore masochist.
in other words read this story its great.

This is a side story of 'Everybody loves large chests' and follows the adventures of Fizzy after she is separated from the main protagonist Boxxy. While it is not necessary to read SCAFT to understand ELLC (though the other way round is), I recommend it strongly. You should read it after 'Upheaval' but before 'Year of the Chest' in the main story.
It's written in the same style as the main story, although there are barely any sexual elements since the characters relevant for those are elsewhere. The story is both funny and exciting and it's great so see the superhuman Fizzy be challenged by a powerful foe.

Unlike the main story, the side story of our crazy golemn feels alot more target in its theme, specifically depressing fantasy adventure.
I personally did not enjoy it as much as the authors other works but that is just because I prefer comedy (๑˙ー˙๑).

Another great works by exterminatus, its a fun read even tho i'm an ass person rather than boobs

An unusual protagonist gives this book a good amount of character. A good science-fantasy / LitRPG read with a feel of Terry Pratchett humour. Not too heavy on the LitRPG skill and attribute descriptions, but enough to scratch the itch if you like that kind of thing (which I do).

Definitely adult only though - extremely violent and depictions of females (both 'people' and monster) are over-sexualised. But as this has some video game roots this is somewhat in-context.

Well written and well edited; only a few typos. Great pacing that made me keep picking this up when I should really have been doing something else.
I started reading this just in the moment it started in Everybody Loves Large Chests. I regret nothing.
5 deserved stards. 'nuff said.
I unreservedly love this fiction.
That is all.

Real darned fun. It's a nice change of pace from the usual madness of ELLC but it still has the madness of ELLC but from a perspective we don't often see it in.
Honestly, its a nice piece of lore that complements the main story well and does give us a bit of sideline development for a character I personally have a bit of investment in. A lot of drama is lying underneath Fizzy's persona prior to becoming a member of Boxxy's party but here she is given quite a bit more character development and progress as both an individual and as a future powerhouse for their team.
Exterminatus brings out a spin off of one of my favorite stories to read, even over some professional novels, to focus on the adventures of a loveable golem. Everything is well done. The pacing, the characters, the humor, the growth and in the end im sad that its over, but its a bittersweet feeling as seeing something so beautiful come to a close. Ive recommended this and Everyone loves large chests to multiple friends and i cant wait for more from this stunning author

Someone hopefully puts tape in his mout.. i mean fingers forgot he is typing,break his keyboard such a dangerous fellow jeez stop making people addicted to your novels there other stuff to do like read your other story , read this story again , read your other story agai... WAIT ADDICTION ALERT (Good job man really great stories and research material ;) )