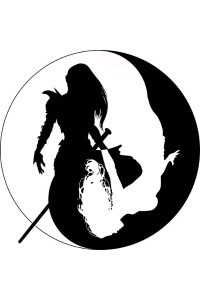 Warning
This fiction contains:
Gore
Profanity
Sexual Content
Traumatising content
The whole room is fully ablaze when the fire turns blue and even hotter. And I still keep my hands on the rune, ignoring the sizzling of my flesh. After a while I notice the blue, roaring flames on the other side of the window. At the edge of unconsciousness, I listen to the screams of people as they are taken by the Inferno.
———————————————————————————————
Reading Order of the Multiverse-Books
———————————————————————————————
Author's Comment:
If you find mistakes, pls tell, thx. I don't like mistakes.
Author's Comment:
Currently I am not active in any other networks than royalroadl.com. Only here, I correct mistakes and errors.
If you read it anywhere else and have to pay for it or have to deal with an annoying amount of advertisement, You Are Being Betrayed. You would do good if you make other people in that network aware of it. This is a free project of mine for the purpose of having fun. And if people try to make money with it you shouldn't bother visiting their website.
Books:
Until Death? http://royalroadl.com/fiction/629
Transcendence? http://royalroadl.com/fiction/1587
Beyond? http://royalroadl.com/fiction/2850
Coeus? http://royalroadl.com/fiction/4745
Court of Souls? http://royalroadl.com/fiction/6545
Agent of the Realm? http://royalroadl.com/fiction/7707
Law of Shadows http://royalroadl.com/fiction/9766
Overall Score
Style Score
Story Score
Grammar Score
Character Score
Total Views :
3,267,511
Average Views :
23,850
Followers :
2,908
Favorites :
1,118
Ratings :
732
Pages :
1,078

I've read all of Andurs stories and enjoyed them, but atleast for me the whole multiverse/reincarnation theme turns old. There isn't much to say about the story itself, the grammar is except for negligible mistakes perfect, the character has clear attributes and thought patterns which are realistic, the writing style is entertaining and is easy to follow and the world seems organic.
My "critic" is that the basics of the story become predictable if you know Andurs other works, which harms my enjoyment while reading. It just feels like he is wasting his talent by sticking to the same characters in different reincarnations instead of trying new things.
Ok. My i am measuring my scores based of RRL quality but mostly off of the authors previous works. Lets be honest, if i just based this off of RRL standards this would be 5s across the board. Also if you are reading this before you read the book. I implure you to not let this review prevent you from reading "Body and Soul". This is my opinion read the book and make your own.
I am currently writting this review at chapter 64
Style: over all good. Only problem is that sometimes it just makes thing 'weird'. I find that the style in this novel is written around how the story should feel, and not the scenario that is going on. This makes it feel out almost off and out of place in certain parts that conflict with overall template. But this is rare.
Story: if this is your first book by Andur, the story will be fine bit genric in places, but over all good.
If you have read 3 or more. This will be really nothing but genric. Thats not bad, it won't in anyway kill the story. But it will hurt it. Like reading a story, forgetting you read it. Author rewrites it, you read it again with the nagging feeling that read this already. But the story is diffrent enough to the point were you know it is a diffrent book.
Grammar: really good. Few mistakes even if you look for them. Are a tiny few but in no way do they break the flow of the story.
Charachter: most novels i can just say, 'good' or bad. This is not so easy tho.
Good charachter devlopment to me is when. At the start i am given a feel on the general type of person the charachter is, and thru the progressen of the plot i can see how. he/she grows and changes while over coming hardships and challenges. Learning about them thru there actions and reactions aling the way.
While i see bad devlopment as, when the charachter stagnates and they do not change or grow tru the plot and i learn nothing about them.
I find this storys MCs character development pretty bad because shr never grows. There is only an illusion of growth. From the 2nd chapter to the 64th she does not grow or devlop as a character at all. While the story progresses we, Learn more about her. The more the author introduces us to the scheme she has going we see the type of person she is. Thats it, she was always that person. While there might of been plot reason on why we could not see her thinking that way, or the author just kept it hidden. She was always that person. Her lack of intrest has not changed, he view has not changed, her goal has not changed, nohing has changed. There has been no development and that's why i see it as, not good.
So thats what i think. If any of that changes while i read. I will update review.

I don't want to do an advanced review as this story is weird. Now some may not find this not to be an issue but for me the quality of the writing has degraded in this story. It started out with an very interesting premise and followed up with a well written expansion the world that was established. It's when we get to the later development of the character and story that we see problems. First as a reader I don't know most of the motivations of the MC and while there is plenty of story written from the MC's point of view as a reader I am not privilege to the thoughts and desires of the MC. This becomes a major problem as the MC goes through several major events without the reader knowing the impact of these on the MC. The author seems to have a general direction or plot lined out for this novel and its seems pretty good from what I know so far but the pacing of this novel is too fast to carry out the plot. This story needs long sections of dialogue and action only told from the point of view of the MC so as a reader I can better understand the thoughts and feelings behind the MC. The reason the story is weird as the side characters are better set up than the main character which leads to disconnect problems as I empathize with the side characters more than the MC as the major plot points are usually half or more told from the point of view of the side characters. I like this author and from their other works this wasn't an issue for me so hopefully this review doesn't influence them negatively as I am a fan of some of their earlier works.

I'm going to edit this controversial review entirely. At chapter 35, this review has garnered 17 thumbs up and 18 thumbs down to be at the bottom fo the first page of reviews. I've been following this story because short and the Andur is a good writer in general.
Pros and Cons below. Press "SHOW MORE" to see.
The beginning of this story starts off weak. It tries to be edgy, and the authors own comments indicate that it was supposed to be "darker", unless I read the wrong thing somewhere.
Now, after that part, our main character for many chapters is ment with MINOR issues she has to deal with, that she typically deals with in a single chapter, or is resolved quickly into the next chapter.
At this point I felt the story was episodic, resolving every issue in a single chapter.
After this, around 20~ it started getting into more 'slice of magic adventure life' where she just traveled around 'doing things'.
There's also a strange point where the author tries to introduce some sort of reasoning for power in this world that feels week.
From here, the story shifts to an almost comedy, where the joke is that the MC doesn't have any common sense and her massive power and understanding makes her do wacky out of this world stuff that baffles people and results in her going 'What's the big deal?', the punchline to literally every joke. Not the worst for a casual read.
TL;DR. Story goes through phases of Edgy to MarySue to SliceOfMagicLife.
PROS:
Easy and quick to read
Great gammar and writing style as to be expected from someone who writes so much and is willing to accept feedback.
Improves itself as it goes on as an enjoyable story
CONS
Tries too hard to be edgy in the beginning which will turn off readers
It indicates that perspectives are being used, by 95% of the time, it's the main character.
The majority of alternative perspectives are completely unrelated to what the main character is doing, so you get little insight into what characters around her are thinking other than from the narration. There may be 1-2 parts that narrate from a character around her and describe what they are doing.
MC always has an answer to everything though otherworldly magic which is apparently super easy to do as long as you know that it exists. A bit of a weak plot point, but I suppose I accepted it for 'Beyond?' which was great btw, so I guess I can try accepting it for here too. Though I felt 'Beyond?' did it better.
My hopes is that going forward it will maintain a more lighthearted nature for the bulk of the story and try to be fun. I would also enjoy more perspectives of other characters and what they are doing for the story. It feels a bit like an RTS where the MC is the player and all the side characters are units doing whatever the MC says to do.
Final words: The only other story I read entirely from Andur (and I loved it) was 'Beyond?'. This story so far doesn't live up to that in its early chapters.

There's a bunch of concepts at play here: A magic system with potential depth, MC with otherworldly knowledge/technology, shitty societal standards (e.g. slavery), conspiracies, nation building, neutral/evil mastermind MC, a wide cast of characters, etc. The problem is that there aren't enough chapters for it all, so most concepts don't get the time they need to be fully explored by the end.

review by that boy


Story: the story looked very good in andur's oneshot series and i am happy that he is turning it into a full blown story.
The story follows a female slave who escapes her master and leaves a little present for him and humanity? the way it is going now the story follows the slave as she goes into the world and experiences new things and the world experiences her. the story follows a pretty standard line for now and i hope andur can surprise us with some interesting twist and hopefully some good intriguing plot's.

Grammar: its andur his grammar is almost always very good and if there are mistakes they are mostly small and quickly fixed.

Style: andur says it will be darker. lets hope he keeps it intriguing and goes into an interesting dark and not a bad overly rapy/murder spree for no reason dark. (which i find is bad dark story telling). uptill chapter 13 the story has seen a few darker parts but nothing to descriptive/gory.
Character score: andurs characters always have a very distinct personality and i am looking forward to see what he cooks up with this mc. Edit: the character is looking to be a strong and intelligent female mc with a bit of OP added in and also a mc who tries to use her brain before her brawl but is not afraid to go against people who try to bully her.

overall: if u like andur be sure to give this story a try and if you are new to andur you might want to check out some of his other less dark stories before you dive into this one.

Edit: i also hope andur try's a new format at some point because following the multiverse he has running now is interesting but becomes a bit dull and just more of the same. this does not at all mean that this story is bad just my opinion. ;)

So this is Andur's new project and judging from the plethora of stories he's come out with, you can expect a consistantly good result.
(If you haven't read his other works, I recommend getting to those as they're good fun reads)
There aren't really enough chapters yet to give a decent review, but to be honest, I just felt that rating this sooner than later would at least expedite its rise to the best active list so that I don't have to search for it every time I log on.
Totally selfish reasons, but still looking forward to the story!
Edit: Well, that didn't take long, story made it to the front page already!

Unemotional. mostly about politics and mc buidling own magical devices and country. Much like Daniel Black...
This reveiw is mostly for my benifit so I can recal why dropped.

This story is loads better than your previous stories, but, as you can see by my rating, there can be a lot of improvement. Like usual, I am not going to say a lot about the grammar. I mean, sure the words work together and what I read makes sense but the number of stupid mistakes (missing words, misspelled words, transitions, etc) drags the score down. (I say this even though the grammar is better than 90% of stories here)
Let's start with something simple: Style. You managed to get rid of a lot of filler that plagued your other works--not all but 60%--but now you have a different problem. More filler, by that I mean many unnecessary words that make no difference to the flow and meaning. It's not just words that are redundant but some paragraphs too. I find myself skimming through whole pages and still coming out with all meaning intact.
Style isn't your biggest problem, The worst problem is your characters. What's her face said close to the end of the book that she remembers hundreds of lives... You would think that Nova would be smarter than a young adult and her opposition would also be a hell of a lot smarter too. How is it that they don't understand that their game style isn't sustainable? For that matter, how is it that Nova couldn't figure out how to escape from the slave collar when the whole damn city doesn't even have protection against something as simple as an inferno spell? How come eighty years isn't enough when she managed to conquer the world in a year?
Then we have the addictive properties of slave collars. Addiction is an addiction and it is hard to break such habits. No matter how you look at it, Nova should've had more negative effects than slight anger problems. We also don't even see a resolution to her addictions, it was just swept under the rug.
Anyways, let's forget all of that and focus on how this feels like a copy of every other story before this one. Sure, the underlining story is different, the characters are different and the whole world is differe-... the same. Everything is the same, you basically changed some names and made the characters a bit more rational. The world is a bit more developed and the problems faced are just slightly harder...
Actually, that reminds me of how the main character somehow has the answer to everything. The conflicts she faces are trivial and are usually resolved by the end of each chapter. You are trying to distance yourself from how anime fails at life but it is not enough. The typical Mary Sue vibes are still present.
TLDR: You can do better.

first, sorry for numerous grammatical error, english is just not my daily language. ouch..
I haven't read any of Andur's series before this, since im new here.. and.. this is my first review..
sooo.. bear with it..
Great story so far..
I like the character development and how the story flow. Quick, but enough, not dragging for a long long long and many many many numerous chapters for each event, which is great, well at least for me, it made me not become bored when read it.
Only one point is lacking, at each chapters, Andur always begin with "**Joyce**" (for example), which pointing that the story os from Joyce point of view. But, most of the chapter are Joyce POV, like 90% all the time. I think it will be great if there are more other POV in the story, like several latest chapters with Zane POV. Maybe 70% main POV -30% other POV will be great, which can give reader another perspective for the character and the story it self. But so far, its great story, and i want moreeee..