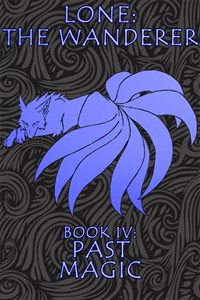 Lone: The Wanderer [Dropped Version (includes original draft of the rewrite's first volume)]
Warning
This fiction contains:
Gore
Profanity
Sexual Content
Traumatising content
Nine-to-five. The daily grind. Life. Painful years of school. Working as a slave for some undeserving corporate big-wig. The monotonous life of unemployment. We all experience this in one way or another, and we can all conclude one thing: it's dull.
Such a fact rings true even for the fabled Lone Immortus, a powerful nine-tailed Golden Foxkin. However, what would you do if your monotony was suddenly ground to a halt and you were thrown out of your comfort zone along with a young girl forgotten by time?
Perhaps you might have done things differently, been more organised, immediately died, gained control of the world in a matter of days, but this is Lone's tale, not yours.
Watching two insecure people struggle to survive and find their place in an unfamiliar land just might be enjoyable to witness. Who knows? One thing's for certain: it won't be an easy path for them to tread, and what could possibly be more entertaining than watching people endure hardships and grow?
I know of at least eight gods that would answer with, 'Absolutely nothing.'
I wonder, after seeing this journey from start to finish, how would you answer?
[Goal of 2 chapters per week, the only exceptions being announced breaks or emergencies]
---
A/N: This story is in the middle of a rewrite, so please forgive any noticeable plot holes and wonky chapter numbers. I am working on it every day, so understanding would be greatly appreciated.
---
The new cover art is a courtesy of the very kind and talented ssddx.
---
This novel is a participant in The Writer's Pledge
Overall Score
Style Score
Story Score
Grammar Score
Character Score
Total Views :
2,256,276
Average Views :
5,359
Followers :
2,035
Favorites :
693
Ratings :
646
Pages :
2,946

***READ EDIT BELOW***Please do not look at the fact that this is 3 and a half stars, and consider this story bad or anything of that nature. In fact, as the 5 star "story" section shows, I feel this has quite a bit of potential. However, there is quite a bit of work before it will reach something that I would consdider four-fice stars.
The dialogue is very stiff throughout all of the first 60 or so chapters I have read through, and it honestly just makes me unable to continue. The way that he just kind of brushes things off, or says "you are a freind now" just completely destroys the character development and the demolishes any further attempts for the character to form real relationships.
There are quite a few little mix ups with typos and such, but I applaud you with how none of them really affect the understanding of the story. The only real issues are small typos of tying the same word twice, or misplacing a letter.
Lastly, I think the hardest part for me when reading this is the way you narrate the story, and sometimes become repetitive in the use of certain phrases (But lets be honest, what author doesn't use the same phrases over and over?)
I really hope this doesn't keep anyone from reading the story. Like I said, I love the idea, but I think the Author is still working on their identity when it comes to narrating.
To the author, I wish you the best of luck, and hope you continue to enjoy writing your stories and much as I am sure your readers enjoy to read them (:
[EDIT]
So I figured I should edit this, although I have posted a review on the NEW book/rewrite the author posted. Since beginning the rewrite you can see a complete change in the Author's style of writing, and their identity is really beginning to take form. I'm extremely pleased with the way this has come out now and look forward to future chapters.

Most of the problem is the MC with the drastic mood swings and uncalled-for reactions. The world tree and dungeon are pretty good examples. The dungeon the character seems to go on a saint personality change for a few chapters then suddenly goes all out devil. Then when it gets to the world tree he is out right shitty to everyone to the point as a reader even I wanted to kick his ass.
Every time a new interesting character is introduced the MC almost right away tries to screw him/her over making that character hate the MC and most of the time without a reason for doing it.

I looked through some of the other reviews and there is quite a few people that dislike the MC. About all that is propping up the story is the regular updating and story plot.

I finished book 1 left with a feeling this could have been pretty good. The story in itself is quite interesting, the worldbuilding is very good and most of the sidecharacters are properly written.
Sadly all of this is ruined by a main character who's a bi-polar psychopath, kidnapper, manchild and child abuser. Couple that with a kidnapping victim who is a goddess in a little girls body with a bad case of stockholm syndrome and you've got the main characters of our story.
Worst part is I read a review saying he gets better, except he doesn't. He gets worse. At no point in this story will I describe this main character as likeable.
If thats your cup of tea, you'll have a blast reading this story. If you're like me, don't bother.
EDIT: Rewrite is fantastic! <3

I first had read this story because I thought Lone was gonna be reincarnated as a shota but to my surprise he wasnt.....sucks to suck.
The style of the story is unlike any other I've seen so far and I say this because it doesn't follow the "Get stronger----> find waifu-----> beat sub-villain------>unlock new ability------->defeat villain's boss------->explore new country------>repeat from beginning" style that alot of stories take.
The grammar is good but there are a few chapters that have words spelled wrong or the sentences run on.
The story was realy interesting in volume 1 but when it hit volume 2 it felt like Lone was just being an a kid that might have a mental health problem. This all changed when we reach volume 3, we see Lone start to act more like a person would act instead of some psycho.
The characters are very interesting except the fairy, I don't really like the fairy.
All in all the novel's great and the author should keep it up.

I'm loving the dick-ish way the God chose and used up 5 power slot for his hero. I have a feeling this story will be a fun ride.
I will update the review in the future,but having read SiS, i bet it will be a good one.
First i'm sorry but i don't speak english very well so there will be a lot error i hope you can understand.
So i don't finish the story immediatly but i plan to (i'm up to chapter 80). Î found your story original and i absolutly loved the beginning and the fact that he wants to be OP be he chooses to do it slowly and not immediatly. But i found that arround chapter 40 he is presented as OP too much even if you try to show that he isn't OP it's can of contradicting. And i found that he's growing too quickly for someone who doesn't want to be right now.
The second point is that he doesn't like people but he become close with a lot of people but again toi quickly : he's alone (with Sophie) for arround 30 chapters and in 30 other he became close with the Tailor, guildmaster, noble people,etc... I found it a bit too quick. Same with his behavior with people it's not a problem if it change but it was too sudden.
And last of thing i didn't like at first was the romance... It was too quick and doesn't make sense : she like his tails but he kidnapped her so she still hate him, then sleep with him, then her past, then i love you !! Where's her hate gone ? It couldn't dissapear like this ? Don't misunderstand, i'm absolutly not against their couple but it's disappointed that it happened so soon and that you didn't develop how their feeling for each other evolved.
Exept these point i found disappointed for me i found it's a good novel, i've not finished it yet but it seems promissing and intéressés so you should read it to forge your own opinion and not being influence by the other review. You might like it or not, it depend of you.
Let's begin with the characters, since that's the worst score and work up:
The main character is contradictory and excessive in what he portrays. On one hand he is a professor at a university and is clearly capable to interact with his students on a regular basis, otherwise he wouldn't keep that job for very long.
Next thing he lashes out at the being which gives him a chance at a new life. Granted it's a stressful situation, but the extend to which that develops is questionable.
Now to further argue my review I have to spoiler the story to a certain degree so be aware of that and decide for yourself if you want to continue reading.
Because he is annoyed he basically imprisons a innocent girl, a child in his eyes, in an empty dimension. Yes, the first chapter establishes a possible reason for his behaviour, but I don't find it to sufficient to justify his reactions towards the girl, especially since she is some kind of divinity. I doubt wether anybody would be that snarky with such a powerful being, even if he was the worst arse on earth...
It goes further since that being(1000 or so years old by the way and capable of assuming her adult-form) then goes on to develop a crush on him. So basically a case of stockholm-syndrom.
Sounds bad doesn't it? Well it is to a degree, the saving grace is, that the character development of both the mc and the support-cast is logical and moves forward in a coherent way. It gives me hope for the future of the novel, especially since the MC grows to be more likeable the further you read.
Grammar and style are solid. Not much I can say there. No awful mix up'swith words and the mistakes are minor most of the time. There is room for improvement, but I'm no literary student.
Story:
The story is interesting, from the beginning you know there is more to this than just the reincarnation of the mc and his journey through the various nation on this new planet. He explores the world and grows while doing so, which I assume prepares him for what is to come :) This is what kept me interested and with the story, until the MC grew to be more likeable.
If you like powerful leads and far-reaching storylines endure the first fifty-ish chapters and see for yourself.
just read all the rewrites and they are all great. cut as this is my first read of this story i have no idea what the hell happens in the story gap, reckon u can put the originals back up plz?
Thanks.

I have read this novel till the current chapter and I would say,this is a pretty good novel. At start you might feel the MC to be a bit extreme and at times weird, but eventually he becomes a better being.
The story flow is good and characters are defined to a good extant, but personally I feel the side characters can be a bit more defined.
Also, a note for the author as a request. Kindly reduce the amount of love dovey scenes if possible, I mean being lovestruck is understood but anything that is explained too much makes not good enough. And no scenes with the kid Sophie please! That is something I would not personally wish to see if that can be ignored.
But, apart from a few points mentioned, the novel is still good and worth reading. The author's hardwork and creativity is evident. Also, I binge read the story in 3 days with the time I had, so it's addictive too!
I wish good luck for Lone and Lone: The wanderer.
(This is my first review for any novel, I have been in RoyalRoad going through various novels of Andur and other novelists, I saw notes by author being frustrated about bad meaningless reviews, so I had to support him. So 4 stars from my side!)
I often don't review like this, but it needs to be made clear that though at the start of this story the main character seemed to rush into power and was unrelatable. Through the story's progression and the writer improving his own skill, it grows into a fantastic fiction. I am also aware that the writer is doing rewrites on the first part of the story, and I highly recommend that people read his other fiction, SHOVEL KNIGHT!! It's pretty damn great.