Dear Royals,
We made another trip around the sun, and we couldn't be happier. Accordingly, it's our pleasure to announce the kickoff of yet another Writathon Season. Make sure to also check out the new Tadpoleon Quest, and the Bingo Game.
Writathon
To win the challenge, you need to write at least 55,555 words in 5 weeks. This is a personal challenge first and foremost, but we hope you will get into the habit of writing and get some motivation while participating with other authors with similar goals.
The Writathon starts now, until the 5th of December.

Rules:
You can submit a new story or you can continue an old one, but the 55,555 words have to be completed in a single-story, not across multiple stories.

For the duration of the challenge, the chapters posted to the story cannot include any sexual content.

You can only participate with an original fiction. The story cannot be a fanfiction.

You can only participate with a word count written during the challenge period.
To accept the challenge, go to the Writathon tab in the Author dashboard and click [Participate]. You can confirm your participation by checking if you have a progress bar in the writathon tab.
If you have a backlog of chapters, click [Participate] only after the backlog is published.
A backlog is any chapter that you wrote but did not publish before the start of the challenge.
If you are submitting a new fiction, the word count for it will start from the beginning of the Writathon challenge regardless of when you choose to participate. But, you must still click [Participate] to be a part of the challenge.

If your new story has a backlog, simply open a support ticket and a staff member will change the starting word count number for you.

For the spirit of the challenge, and to inform the other authors and readers - please add [participant in the Royal Road Writathon challenge] in the description of your story.
As much as the challenge is a personal one, it is also a bit social. Accordingly, we opened the Writathon forum where you can leave your words of encouragement, frustration, or challenge to your fellow participants!
First Milestone:
Write at least 25,000 words by the 15th of November to qualify for the announced participants' list.
The list will be announced to everyone, and it will show the fictions that are seriously participating in the challenge to make it easier for readers to find those stories.
This is a personal challenge, to remove the competitive element to it the names on the list will be randomly listed.
Second Milestone:
Finish writing 55,555 words before the end of the 5th of December.
If you complete this milestone by the deadline, you will count as a winner of this challenge (even if you didn't make it in time for the first Milestone)!

Rewards:
All winners will receive 1-month of Author Premium (this can be used or gifted to another user per request).
All winners will receive an Achievement unique to the Writathon worth 5000 level EXP!

Time zone:
The challenge follows the IDLW timezone, which is the last timezone on earth. This means that as long as the date is still the 5th somewhere around the world, the challenge will continue! You can check out a countdown in the author dashboard as well.
How to submit your first story
Register for an account on Royal Road if you have not already. This can be easily done from our Welcome page or by clicking the "Login" button in the top right corner and selecting "Create an account" at the bottom of the login form.
Once you log in, click Write on the navigation bar, which will take you to the Author Dashboard. From there, click [Add New] or jump to New Fiction Submission
Fill in the Title and the Description. Select the genres and additional tags. Fill in your first chapter's title and the content of your first chapter. Expanded detail on this can be read in the next section.
Note: Please do not include links for donations, Patreon accounts, or shortened links to other sites such as Discord servers in your Description.
Note: if you do not select fanfiction for stories based on others' work or do not choose the Content Warnings appropriate for your story, the submission will be rejected.
Upload a cover image that is 400x600 pixels or larger (this is optional)
Then click Submit. You can read more about this in our new knowledge base
All new submissions are manually checked for appropriate tagging and plagiarism, so expect it to take between 12-24 hours for a submission to be approved. Please be patient. Make sure to follow our rules to not get rejected after waiting.

Once your fiction has been approved, you can find it by clicking [Write] on the navigation bar. Then click your fiction Cover to get to the [Fiction Dashboard], [page], and [Add Chapter] button.
Bingo
Just for Fun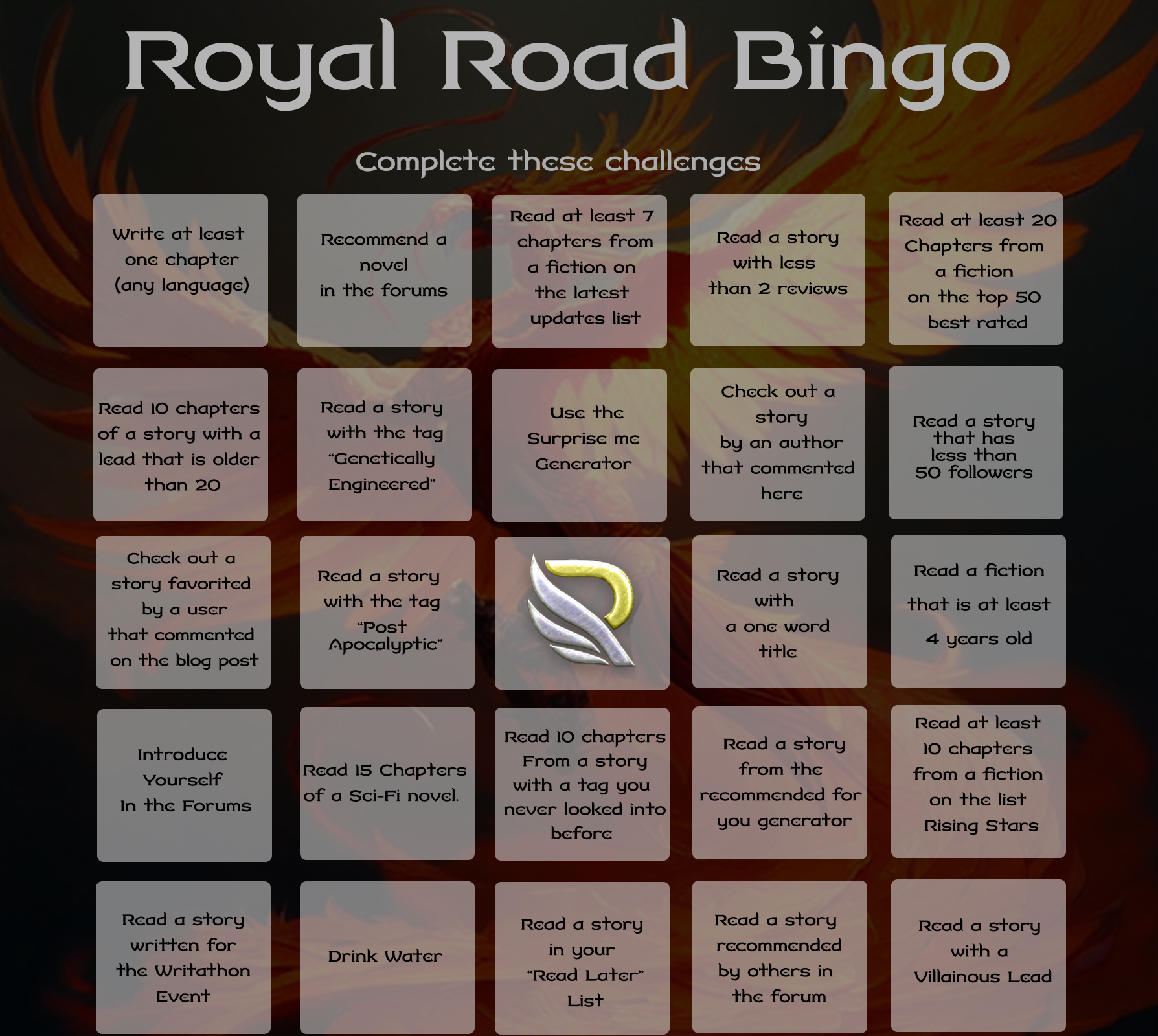 Rules:
Each fiction can fit into only one category.
Try to search for stories that you haven't read before. But, you can read 20 more chapters of something you have already read towards this challenge. Anything you've read before this event does not count.
If the bingo doesn't specify a number, read as much as you want.

How to find these stories:
To enjoy the up-and-coming greats of the genres we sport here, go to our Rising Stars List and see what has caught people's attention at this time.
We pride ourselves in constant updates, and our Latest Updates list is worthy of refreshing.
If you are new and haven't yet checked it out, head onwards to our Best Rated list and take your pick! Hours of fun await!
If you're looking for something based on a specific genre or category, our Advanced Search is here to help you generate lists based on your taste
For more fiction lists, you can check the dropdown menu [Read] found in the site's header. This includes the [Surprise Me] random generator feature.
But don't stop there! Our Forums are a great place to gather and discuss every manner of topic (related to stories), and it is a good way to satiate a socializing need.
Make every post count, gather Reputation, and make it to our top levels.
Tadpoleon
While today is our anniversary, it is also Toad-day, and a lot of celebrations are happening in the Toad Kingdom as well, some law-abiding tourist spies went there to check out these celebrations. However, the teleportation tool to help them return was disabled once they arrived there.
We need your help to make sure they can come back. The only other way to get back from the Toad Kingdom is with The Ferryman. Unfortunately, he's a bit peculiar and only accepts fine artwork as payment.
Please talk to the Ferryman and provide him with artwork as payment to help our people come back home.
All you have to do is send the Ferryman a PM with an image that you've personally drawn (or used an A.I to assist you with)
You can also share your artwork in the Art Forum for everyone to see.
Reward: Achievement.
Bonus Achievement for showing and explaining your process in the Art Guide forum. If your post does not categorize as a Guide, it will be removed from the subforum, and you won't get the bonus achievement.
Deadline: November 9, Midnight, IDLW (Everyone will get the achievement at that time).
Closed - follow up will be soon.